Alleged Chinese "spy" balloon causing further rift between Washington and Beijing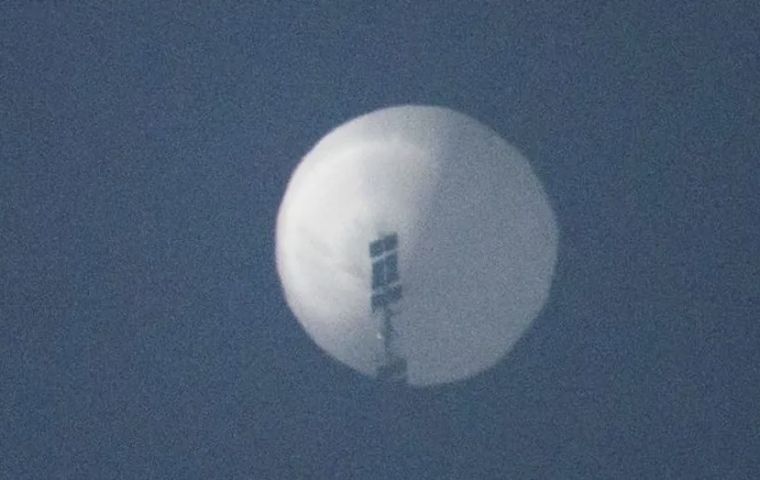 US authorities said they detected a Chinese spy balloon flying over Latin America in addition to the one already spotted over US airspace which has triggered further diplomatic discrepancies between Washington and Beijing.
Costa Rica's La Nación newspaper just published an article about a white flying object, which resembled a hot air balloon, that according to Pentagon sources does not seem to be heading for the United States.
"We are seeing information about a balloon flying over Latin America. We are now assessing that it is another Chinese surveillance balloon," Pentagon spokesman Brigadier General Patrick Ryder told reporters.
The Pentagon announced Thursday that it was tracking a Chinese "spy balloon" flying over the state of Montana, where one of three nuclear missile silo fields on US soil is located. The other two are in North Dakota to the east, and Wyoming to the south.
The Pentagon said the balloon moved in the last hours in an easterly direction. It is now in the center of the country, about 60,000 feet above the surface (18,288 meters). As the balloon crosses the country, the Pentagon's top brass strongly advised President Joseph Biden not to take any action against it for safety reasons, as debris could fall on the population.
The presence of this Chinese "spy balloon" has triggered a diplomatic crisis between Washington and Beijing and has led to the suspension of Secretary of State Antony Blinken's trip to the Asian country.
"China is a responsible nation and doesn't violate the airspace of other countries," Foreign Ministry spokeswoman Mao Ning after press reports about the balloon went viral. "Speculation and hype are not conducive until the facts are clear," the spokeswoman said, as quoted by Chinese broadcaster CGTN. She expressed hope that the relevant parties would be able to resolve the issue in a "cool-headed way."
Undisclosed US defense sources were reported to be certain that the balloon belonged to China as similar incidents had already occurred in the past. The flight path of the balloon crossed "a number of sensitive sites," it was also reported. But it has limited intelligence value, the sources also said.
According to reports, the balloon made it to the US through Canadian territory. Canada's defense department said it had been taking steps to ensure the security of its airspace, including monitoring for "a potential second incident."
Uncorroborated reports said Beijing had admitted owning the balloon but claimed it was a civilian aircraft "for research purposes, mainly meteorological."