Chile: Poll shows Boric's popularity slightly improving from worse to just bad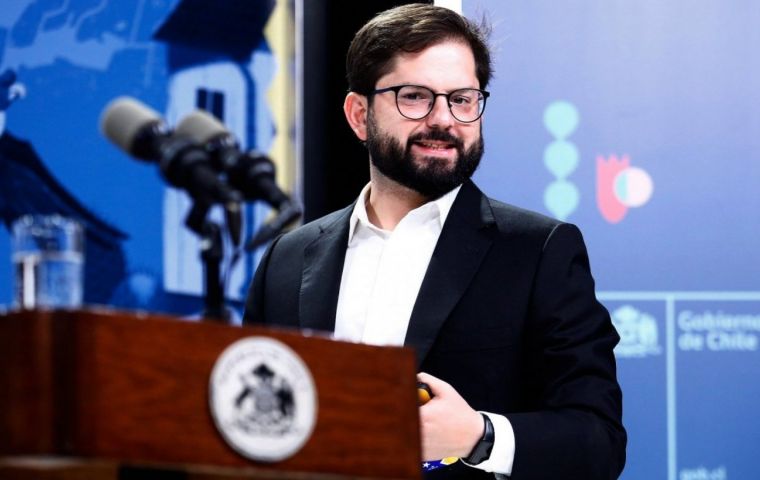 The Government of Chile failed to make timely decisions to fight the forest fires that broke out in the southern and central parts of the country, according to 68% of respondents to a survey by pollsters Cadem released on Sunday, which also showed the popularity of President Gabriel Boric Font slightly improving.
The consulting firm interviewed 706 people (men and women 18 years of age or older) residing in the 16 regions of the country. An overwhelming majority (94%) believed that the fires were caused by arson, and 63% believed terrorist groups were behind them. In addition, 68% considered that the Executive did not make timely decisions to face the fires and 94% think that the Armed Forces should have an institutional role during emergencies.
The Fire Department was found to have a 99 approval rating, followed by Carabineros (85%) and the National Forest Corporation (Conaf) 81%. Only 37% of respondents approved of the government's actions, despite which President Boric's approval went up 2 percentage points (from 27% to 29%) with 65% (-2%) disapproving of him.
Meanwhile, authorities confirmed that thanks to some rain, the number of fires still actively fought went down from 98 to 79, although high temperatures are expected once again this week.
"We have a weather window today. This means that we have a frontal system that has caused some rain to fall and lower temperatures, particularly in the Bío Bío and Ñuble regions," Undersecretary of the Interior Manuel Monsalve explained. However, he warned that "high temperatures are expected to remain in the central-southern zone and, then again, between Wednesday and Thursday."
There are 289 active forest fires currently active nationwide, particularly "in the regions of Maule, Ñuble, Bío Bío, and La Araucanía," Monsalve also pointed out while underlining that 141 aircraft have been deployed in the firefighting operation. "We have almost double the number of aircraft fighting fires than there were in 2017,″ Monsalve stressed. He also said over 7,000 people were fighting the fires. "We also have to recognize the capacities that the country has, both public and private, to coordinate its resources to face this emergency," Monsalve insisted.
Authorities also confirmed having arrested 31 people for their alleged participation in the origin of the fires while 33 other people have been caught violating the curfew.