Brazil receives first shipment of Swedish fighter parts from Saab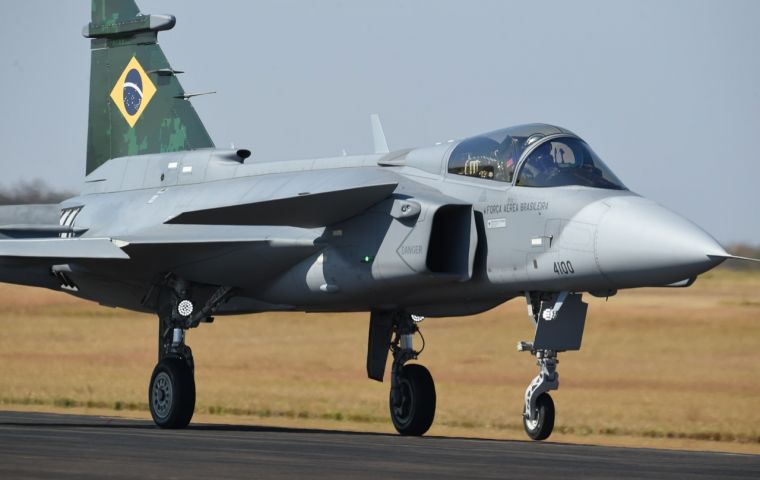 Brazil has taken delivery of the first shipment of parts of Swedish Gripen F-39E fighters to be assembled at Embraer's Defesa & Segurança's facilities in Gavião Peixoto, in the state of São Paulo. Hence, the aircraft with serial number 6032 will be the first to be entirely assembled in the South American country.
Specifically, the Swedish company sent, by sea, a set of wings and the front, middle and rear sections of the fuselage, structures that were produced at the Linkoping factory in Sweden. The assembly of this aircraft is expected to be completed by the end of April. Each box containing one of the wings occupies about 40m2, and a series of special equipment is installed on both the trucks and the transport ship to ensure that these components travel safely to Brazil.
In previous sales, Saab shipped complete, tested, and airworthy aircraft after receiving minimal maintenance and some ground checks. Currently, the Brazilian Air Force fleet is composed of five Gripen F-39E single-seat fighters.
In a separate development involving Brazil's defense capabilities, the South American country's Navy reported that the OPV Araguari completed a series of joint exercises with the Namibian Navy in the Gulf of Guinea, focused on targeting piracy, illegal fishing, and drug trafficking.
The exercises consisted of a maneuver called "Leap Frog" with the Namibian Navy Patrol Vessel "NS Elephant". This consists of a lateral approach on one of the sides and maintaining the relative position between the vessels, at a distance of approximately 50 meters.
This was followed by boarding exercises on the decks of the ships. The activities contribute to the strengthening of interoperability between the two countries, in favor of maintaining stability in the South Atlantic.
Between Oct. 11 and 17 last year, the Araguari participated in the multinational "Grand African Nemo 2022" (GANo) drill off Guinea, Sierra Leone, Liberia, Ivory Coast, and Ghana.
The Araguari is the third of the Amazonas class, built by BAE Systems for the Brazilian Navy. It has an overall length of 90.5 meters, a beam of 13.5 meters, a draft of 6.0 meters, displacement at a full load of 2,060 tons, developing a maximum speed of 25 knots.