Chile reinforces military presence near Peru, Bolivia border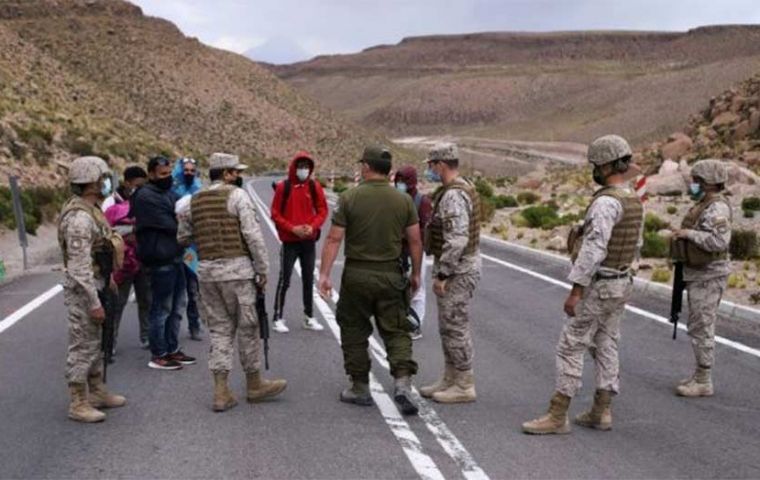 The Chilean Government of President Gabriel Boric Font has upped the South American country's military strength in areas bordering Peru and Bolivia such as Arica, Parinacota, Tarapacá, and Antofagasta in a move to tackle illegal immigration, it was reported.
Uncontrolled foreigners crawling in through the north and violent Mapuches in the south have taken a toll on Boric's image, which now has a 70% disapproval amid increasing calls that "Chile [be] for Chileans." In this scenario, Boric authorized the use of force in case migrants fail to comply with the instructions given to them when caught entering the country through unauthorized paths.
"We will be visiting some of the deployment sites next Monday, to see how this work of the armed forces will be supported," Interior Minister Carolina Tohá told reporters.
The Chilean military has been entrusted with a mission to restore control over the next 90 days in a region flooded with migrants, mostly Venezuelans, who arrive in precarious conditions and in numbers so high that the social aid organizations trying to help have collapsed.
According to Boric's decree, the military units "may carry out identity controls and detain persons entering or leaving through an unauthorized border crossing", and then hand them over to the local police.
Colchane Mayor Javier García said in a radio interview that "an average of 400 people arrive" there daily through unauthorized crossings. The Andean town of Colchane, on the border with Bolivia, is the most used crossing point for foreigners to enter Chile, and it is a region where dozens of people have died in recent years. Those who manage to reach Chilean cities settle as best they can in tents or in squares, walking adrift, asking for help. Last year, the government of then President Sebastián Piñera extended a 600-meter ditch built six years ago near Colchane but people smugglers and drug traffickers built bridges to cross it.
The military deployment might be extended past 90 days if Congressional approval is granted.