De Moraes releases another 129 Jan. 8 suspects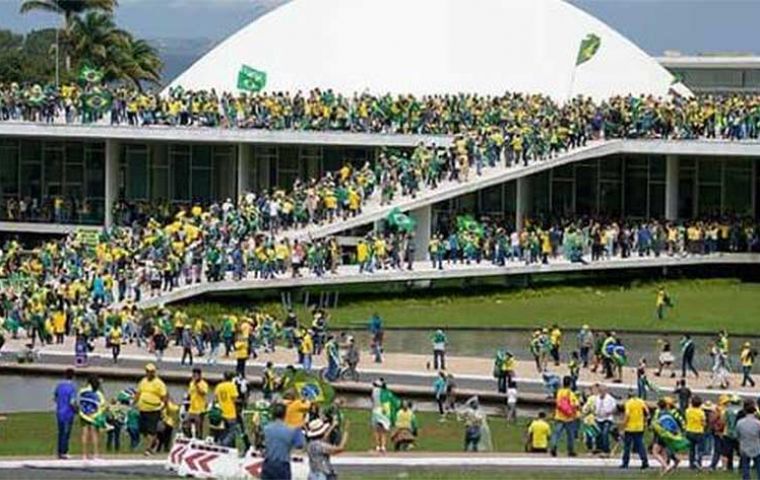 Brazil's Supreme Federal Court (STF) Justice Alexandre De Moraes has Thursday ordered the release of another 129 people who were in custody for allegedly participating in the Jan. 8 riots in Brasilia. With this new ruling, 294 remain in prison (86 women and 208 men), while over 1,100 have been released, although they will remain under surveillance.
They must wear an electronic anklet, in addition to not being allowed to leave their homes at night and use social networks or contact other detainees in connection with the same case. They are also banned from leaving the country and must surrender their passports, while those having gun permits either for hunting or for collectors' purposes had their licenses suspended.
Thursday's decision is grounded on the Attorney General's Office's estimation that the accused no longer represented a procedural risk nor one for society "at this time," although they remain under investigation for incitement to crime and criminal association, while 219 suspects will also have to answer to attempted coup d'état charges.
On Jan. 8, 2023, thousands of followers of former President Jair Bolsonaro stormed the headquarters of the three branches of government in the Federal District in an attempt to trigger a military uprising against President Luiz Inácio Lula Da Silva. Bolsonaro is under investigation for his possible incitement of these actions after months of spreading doubt about the reliability of the Brazilian electoral system.
Since Lula was elected on Oct. 30, thousands of Bolsonaro supporters have been calling for a military coup. Demonstrations mounted in the last months of 2022.