Venezuelan oil minister resigns amid corruption scandal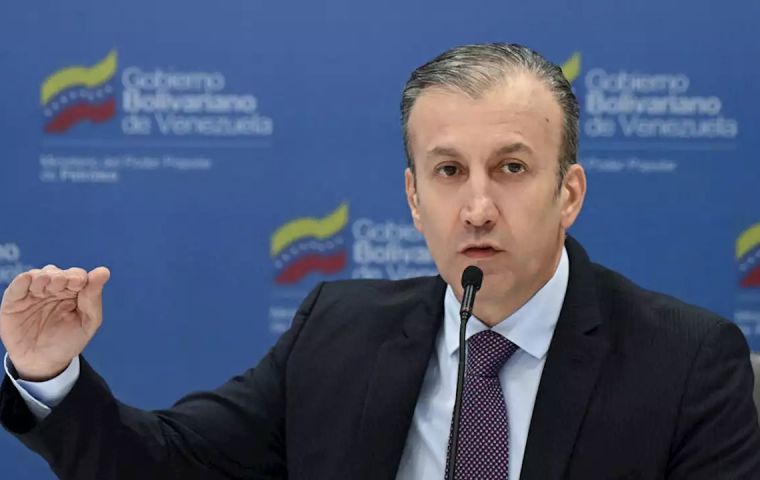 Venezuelan Oil Minister Tareck El Aissami Monday resigned his post on Monday after the opening of a corruption investigation involving the state-owned oil company Petróleos de Venezuela (PDVSA) in which two officials have already been arrested. El Aissami, a powerful ally of President Nicolás Maduro, has been singled out by the United States as an alleged drug lord.
"By virtue of the investigations that have been initiated into serious acts of corruption in PDVSA; I have taken the decision to present my resignation as Minister of Petroleum, to fully support, accompany, and back this process," El Aissami said on Twitter. El Aissami had been in office since April 2020.
The Public Prosecutor's Office and the National Anticorruption Police launched an operation Friday. The illegal deeds were reported to amount to US$ 3 billion of PDVSA's money.
After resigning, El Aissami announced on Twitter his support for this new "crusade" of the government against corruption. "Likewise, as a revolutionary militant, I place myself at the disposal of the PSUV leadership to support this crusade that President Nicolás Maduro has undertaken against the anti-values that we are obliged to fight, even with our lives," he said.
In 2020, El Aissami was added to the list of the US' 10 most wanted fugitives. In 2017 he was said to be a major drug trafficker and was indicted two years later on allegations of violating those sanctions imposed by Washington. The White House even offered a US$ 10 million reward for his capture.
Venezuela's National Anti-Corruption Police arrested on Sunday two men linked to El Aissami: PDVSA's vice-president of Commerce and Quality Supply, Colonel Antonio Pérez Suárez, and Joselit Ramírez, Venezuela's National Superintendent of Cryptoassets (SUNACRIP), who manages the oil industry's funds through cryptocurrencies.
The arrest occurred after police suspected high-ranking officials "could be involved in serious acts of corruption and embezzlement," according to the official report.
Also arrested in the case were Deputy Hugbel Roa; lawyer Cristóbal Cornieles; Santos Michelena Mayor Pedro Hernández, and the control judge for crimes associated with terrorism, José Mascimino Márquez.
Venezuela's oil industry has been the target of other corruption investigations, which ended with the arrests of dozens of PDVSA employees and two oil ministers, Eulogio Del Pino and Nelson Martínez. Rafael Ramírez, who was oil minister between 2002 and 2014, is on the run abroad after being charged with embezzlement.