First shipment of Argentine beef to Mexico takes off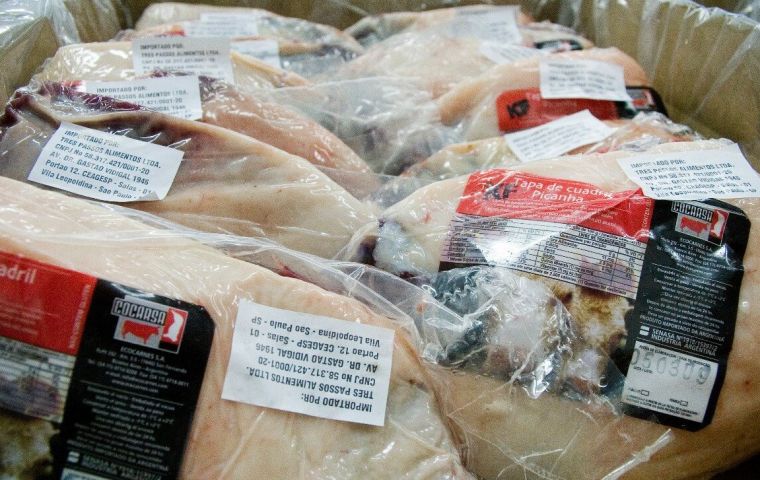 The first shipment of Argentine beef took off from Ezeiza Airport Tuesday on an AeroMexico flight after more than 10 years of negotiations, the South American country's National Service for Agrifood Health and Quality (Senasa) reported. Both countries had agreed on December 2 on the sanitary certificate requirements.
Tuesday's cargo consisted of one ton of different cuts of beef from the Argentine establishment "Arrebeef", one of the 22 facilities authorized to export to this destination, Senasa said in a statement.
Agriculture, Livestock, and Fisheries Secretary Juan José Bahillo said that "the opening of Mexico for Argentine beef is a reaffirmation of the quality and safety of our food and an endorsement of our production system that stands out for its sustainability and efficiency."
Mexico opened its market to Argentine beef last Nov. 11 "in what was the conclusion of a negotiation that lasted more than ten years," Senasa also pointed out.
In July 2022, a delegation from Mexico's National Agri-Food Health, Safety, and Quality Service (Senasica) made a comprehensive audit visit to Argentina's beef production and processing system.
"The final step towards the start of shipments was the agreement between both sanitary services on the requirements of the certificate that will endorse exports, thus concluding a negotiation process initiated in 2012," the Argentine agency also noted.
"Today Argentina has enabled the markets of Canada, the United States, and now Mexico, a very important block for the country and for our industry and a very big challenge for Senasa to continue opening other markets," Senasa Vice President Rodolfo Acerbi said.
Gabriel Terrés, head of the Foreign Affairs Department of the Mexican Embassy in Argentina, said that Tuesday's operation was "the beginning" of a new path in bilateral trade that "reflects the weight of our economies and the exchange of products that will bring us closer to each other."