Landmark UN Water conference in New York to address climate change and drinking water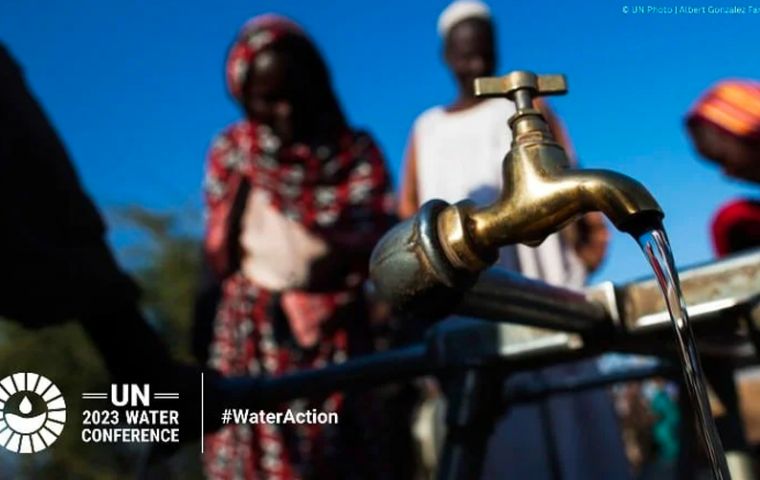 Leaders will gather this week in New York City for a landmark United Nations conference, an event expected to focus on the rising toll of the climate crisis and the effort to provide clean drinking water to a global population of over 8 billion.
The UN Water Conference, the first event of its kind in 46 years, will cover a range of water-related issues, including a surge in flooding, droughts, drying rivers and other extreme changes to water resources linked to climate change.
Many of the discussions will also explore how countries can expand access to clean drinking water, particularly in the poorest communities, and improve sanitation services, which remain elusive for many.
One in four people lack safely managed drinking water in their homes and nearly half the world's population live in places without properly managed sanitation, according to a report from UNICEF and the World Health Organization.
"Access to clean drinking water and sanitation is a human right and absolutely crucial for combating poverty," says Leticia Carvalho, Principal Coordinator of the United Nations Environment Program (UNEP) Marine and Freshwater Branch. "We need to dramatically scale up our work in this space or we risk a situation where billions are permanently left behind, and where our water bodies continue to deteriorate."
The Sustainable Development Goals, humanity's blueprint for a better future, call for universal access to drinking water and sanitation by 2030 and for the protection and restoration of freshwater ecosystems. To reach the goal's targets, the world will need to quadruple its efforts to connect people to safely managed water networks and sanitation systems.
At the conference, delegates are expected to formulate what is being called the Water Action Agenda, a series of voluntary commitments designed to help achieve Sustainable Development Goal 6, which covers access to drinking water and sanitation.
The UN Water Conference comes at the midway point of the UN Water Action Decade, a global effort to head off a looming water crisis that could see a 40 per cent shortfall in global freshwater supplies by 2030. That push is widely seen as key to realizing the Sustainable Development Goals.
The climate crisis, in particular, is leading to shifts in the hydrological cycle, which is causing more frequent and more intense water-related disasters, according to the UN Intergovernmental Panel on Climate Change. Flooding, for instance, has struck countries as varied as Australia, Chad, Pakistan and the United States in recent months.
Almost three-quarters of all recent disasters are water related, having caused economic damage of almost US$700 billion in the past 20 years, according to UN Water. These problems are expected to worsen in the years to come. Global heating is also causing glacier melt in mountains with the risk of glacial lake outbursts, which could devastate downstream communities. Meanwhile, the melting of polar glaciers is leading to rising sea-levels with severe consequences, especially for small island developing states.
At the water conference, one call is likely to be for a global water information system, bringing together data gathered by UNEP and other organizations. The intention is to advance the United Nations effort to deploy by 2027 a suite of early warning systems for climate-related disasters. About one-third of the world's people are not covered by disaster warning systems, a total UN Secretary-General António Guterres has called "unacceptable".
The vision statement of the water conference calls for states to more fully embrace sustainable ways of managing scarce water supplies. UNEP's mandate includes advancing this approach, known as integrated water resources management (IWRM).
To help preserve the world's freshwater resources, UNEP is tackling the degradation of water bodies caused by pollution, biodiversity loss and infrastructure development. It's also supporting transboundary water cooperation agreements.
As well, UNEP is supporting the implementation of a global agreement on the sustainable management of lakes and other water ecosystems, such as wetlands. The organization has also launched a new portal for the conference to highlight the role of watery abodes in fighting climate change. It will highlight the urgent need to protect and restore these ecosystems, which can be cost-effective nature based solutions to development challenges