Brazil: Teenager kills teacher and injures four people at school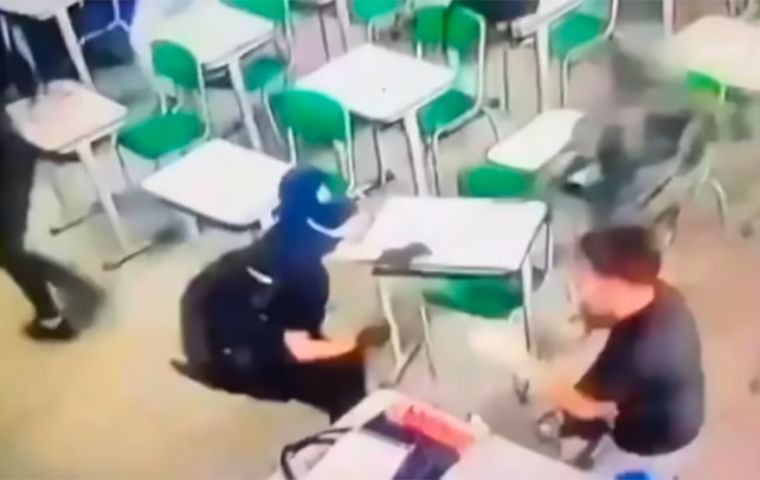 On Monday, a 13-year-old teenager killed a teacher with a knife and injured four others inside a school in the Brazilian city of Sao Paulo, the regional government informed.
The perpetrator of the attack, which took place at the public school Thomazia Montoro, was arrested after being immobilized by a Physical Education teacher before the police arrived.
According to the school's security camera footage, the deceased teacher, identified as Elisabeth Tenreiro, was 71 years old and was fatally stabbed in the back and head.
She was transported in "critical condition" to a hospital, but did not survive and passed away.
The young attacker also injured four other individuals, three teachers, and one student, who are reported to be "stable," according to official information.
Additionally, a student went into a state of shock and is receiving psychological care.
The Civil Police of Sao Paulo has opened an investigation to clarify the motives behind the attack.
According to witnesses quoted by local media, the teenager had a fight last week with some students, and his cellphone contained information about similar events that occurred in other educational centers in the country.
Sao Paulo Governor Tarcísio de Freitas, who is on a tour of Europe seeking new investments for the region, expressed his sadness for the incident on his social media.
"I have no words to express my sadness for the news of the attack on students and teachers at the Thomazia Montoro State School. The 13-year-old teenager has already been apprehended, and our efforts are focused on helping the wounded and attending to their families," the governor said from London.
These types of incidents against schools are rare in Brazil, although they are becoming increasingly frequent.
On November 25, a 16-year-old teenager shot and killed four people in two successive attacks on two nearby schools in Aracruz, in Espirito Santo (southeast).
Two months earlier, an armed man with a revolver and two knives invaded a civic-military school and killed a disabled student in the state of Bahia (northeast).
Similarly, on March 13, 2019, two former students entered a school in the city of Suzano, about 60 kilometers from Sao Paulo. They killed five students and two workers, leaving a dozen injured, before both taking their own lives.
WARNING: The following images are sensitive
EFE