Fernández seeks Biden's help ahead of further IMF talks
Thursday, March 30th 2023 - 10:55 UTC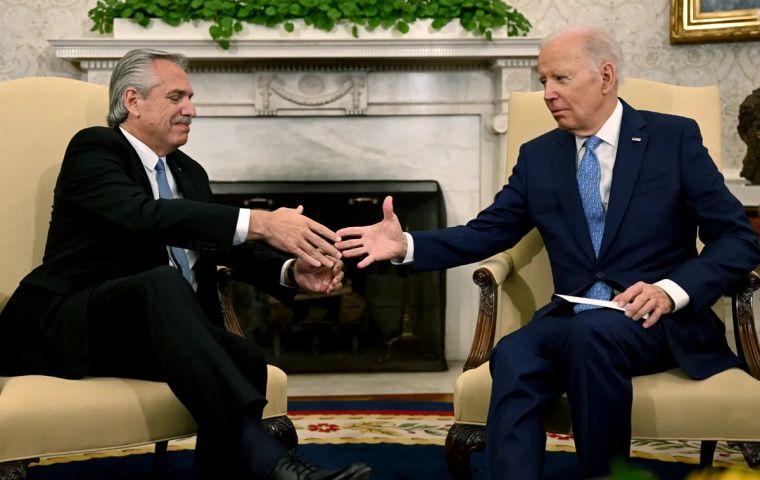 Argentine President Alberto Fernandez was welcomed Wednesday at the White House by his US colleague Joseph Biden. The South American leader explained that his country was going through its worst drought since 1929, which "has greatly complicated our economy" and sought Biden's help in the upcoming negotiations with international creditors. The meeting was to have been held in July 2022 but the US president contracted Covid-19 and it was postponed.
"We are presenting this new reality to the lending agencies, so I hope they continue to accompany us as they have done up to now," Fernández told Biden, whose country is the main shareholder of the International Monetary Fund, which has approved a credit program for Argentina for a total of US$ 44 billion over 30 months.
The meeting comes at an important moment in the debt restructuring agreement between Argentina and the IMF, as the Fund's board is expected in the coming days to authorize a disbursement of $5.3 billion, within Argentina's $44 billion credit with the financial body.
"We have had to face such an enormous scourge as the pandemic, and I want to thank you because your government collaborated with Argentina and the entire continent by donating vaccines," Fernández went on and added that he believed "that President Biden's government, like our government, sees democracy and respect for human rights as central objectives of development."
"As countries, we have a great opportunity ahead of us, the world demands food, energy, and we have all these goods in our countries and we can produce them," the Argentine head of state also pointed out.
Fernández also expressed his support for Biden's initiative "to regulate the sale of arms in the United States." First Lady Jill Biden went to Nashville, Tennessee, Wednesday, due to the school shooting that left 7 people dead, including the perpetrator. "In my country there are those who propose that arms sales be liberalized to defend themselves," said Fernández.
"Mr. President, it is a pleasure to receive you. The other time I had to postpone because of Covid and thank you for participating in the democracy summit," said Biden.
"We see the serious problem that the Russian invasion has caused to Ukraine and has generated an immeasurable damage to the world economy," Fernández also pointed out while pledging to "work together" for the end of the hostilities and its subsequent economic recovery, while insisting that peace was "urgent."
"We see the serious problem that the Russian invasion has caused Ukraine and has generated immeasurable damage to the world economy," Fernández said.