Florida legalizes concealed guns without a permit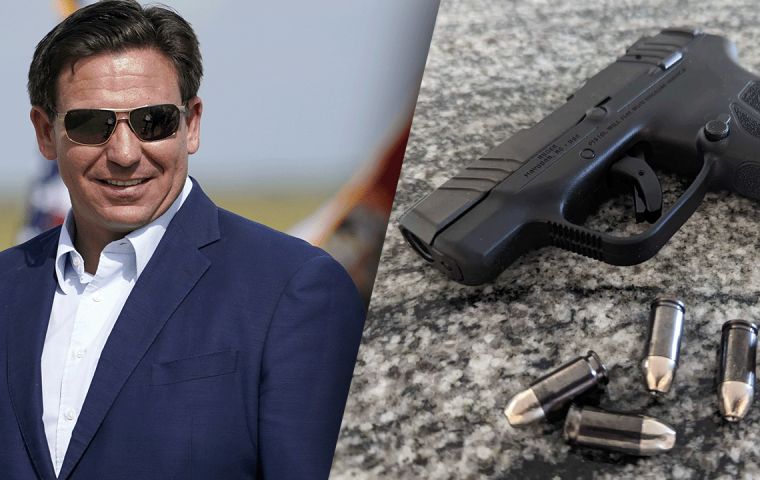 The US State of Florida Monday legalized through Governor Ron DeSantis's signature the carrying of concealed weapons without a permit. The state Senate passed House Bill 543 by a 27-13 vote last week. The bill also received heavy Republican support in the House, where it passed by a 76-32 vote. "Constitutional Carry is in the books," DeSantis said in a statement.
The new law will go into effect on July 1. When it takes effect, those eligible for a gun license need only a valid ID to carry a concealed weapon in Florida. Failure to present a valid ID will be penalized with a US$ 25 fine.
DeSantis, who is likely to run for President in 2024, has taken a position opposite President Joseph Biden on gun laws.
Meanwhile, Florida's Senate also passed by 26 votes to 13 a bill further limiting abortion to the first 6 weeks of pregnancy. Opponents of the measure argue that at that stage many women do not even know that they are pregnant. Since July 1, 2022, abortions can only be legally performed in Florida up to 15 weeks of pregnancy, instead of the 24 weeks established until then.
The measure approved still must receive the go-ahead from the state House of Representatives before it reaches the governor's desk to be signed, but it is expected to move forward.
Florida has in the past welcome numerous abortion-seeking women from states such as Georgia, Louisiana, Alabama, Mississippi, and Texas, where restrictions are even tighter. The total number of legal abortions in Florida in 2022 was 82,199.