School violence in Brazil tied to neo-Nazi movements?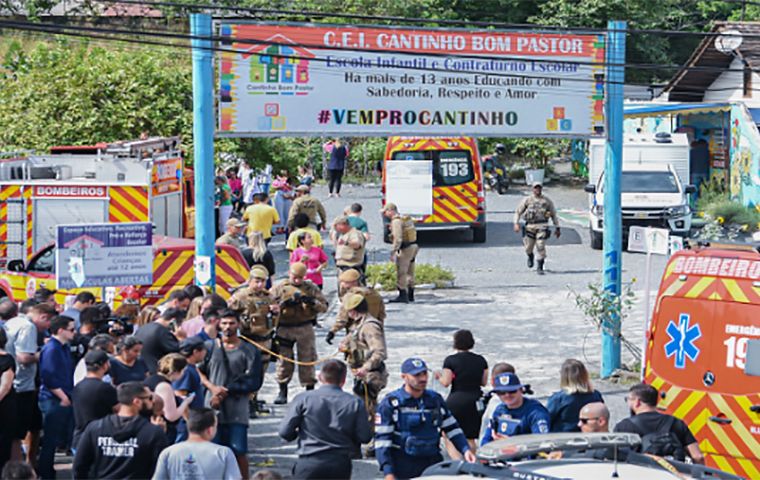 Brazil's Federal Police is following the lead of "Nazi and neo-Nazi" groups possibly involved in the attack on a daycare center in Blumenau in which four schoolchildren were killed.
Investigators also include an attack by a teenager at a school in São Paulo last week that resulted in the death of a teacher less than two weeks ago.
"I have already signed an order for the Federal Police to initiate an investigation into Nazi and/or neo-Nazi organizations in Brazil, as there are indications of inter-regional action," said Justice Minister Flavio Dino, who sees a connection between the increasingly frequent attacks in schools to "the proliferation of hatred in society due to an unregulated Internet and irresponsible companies."
Dino insisted that the "use of weapons" and the "ideology of death" is increasingly associated in the networks by "Nazi or neo-Nazi groups."
His decision came just days after the O Globo network revealed connections between Brazilians and an international white supremacist organization in the south of the country. These two attacks seem to be connected to this type of organization, the minister explained.
Last Wednesday, a 25-year-old man with a criminal record entered a daycare center in Blumenau, armed with an axe, and murdered three boys and a girl and wounded four others between the ages of three and seven. After the brutal murders, the assailant turned himself in and is still in custody. Since then, he has remained silent.
"There is no greater pain than that of a family that loses their children or grandchildren, even more so in an act of violence against innocent and defenseless children," President Luiz Inácio Lula Da Silva wrote on social networks. "a tragedy like this is unacceptable" and an "absurd act of hatred and cowardice," he added.
A similar event happened less than two weeks ago in Sao Paulo where a 13-year-old teenager stabbed a teacher to death and wounded four other people. According to EFE, attacks on Brazilian schools have already killed 40 students and teachers in the last 20 years.