President Biden received in Belfast airport by PM Rishi Sunak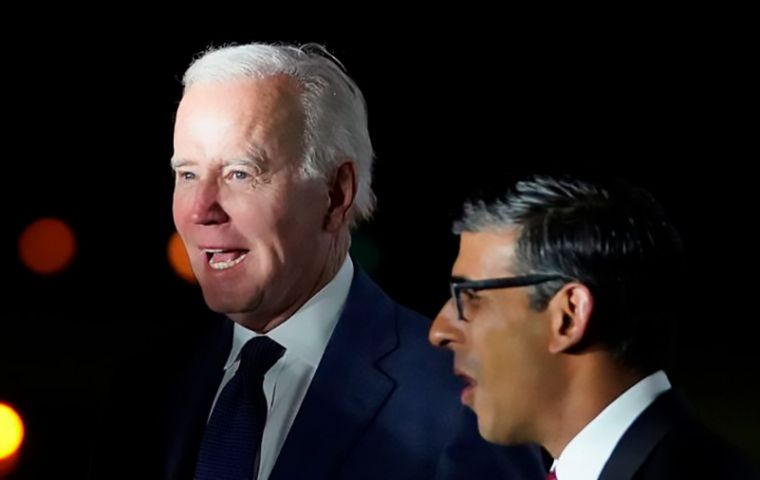 US President Joe Biden arrived in Northern Ireland on Tuesday, starting a trip to commemorate the 25th anniversary of the Good Friday Agreement — the deal that ended some 30 years of civil conflict.
Mr Biden was greeted by Prime Minister Rishi Sunak as he stepped off Air Force One at Belfast International Airport.
The White House hailed the "tremendous progress" since the Good Friday Agreement was signed in 1998. But Mr Biden's trip is overshadowed by the fact that Northern Ireland's power-sharing government is not functioning.
It collapsed last year when the Democratic Unionist Party (DUP) - one of the biggest parties at Stormont - pulled out as part of a protest against post-Brexit trade rules for Northern Ireland.
He is also scheduled to deliver an address at Ulster University in Belfast on Wednesday. It is the first visit by a US president to Northern Ireland in 10 years.
Biden's visit, and the anniversary, come at a delicate time for Northern Ireland, as it also grapples with the repercussions of Brexit on its borders and trade dealings.
Biden's trip also followed two busy days for law enforcement in Derry, a border city well to the west of Belfast. Derry has a large republican community and was a historic flashpoint during the decades of violence called "The Troubles."
Police said on Tuesday that they had recovered four suspected pipe bombs from a cemetery in the predominantly Catholic and republican Creggan estate overlooking the city.
"The discovery of these devices was a further sinister and worrying development," Assistant Chief Constable Bobby Singleton said.
On Easter Monday, the exact 25th anniversary of the Good Friday Agreement's signature, two unregistered parades in the city were staged by people dissatisfied with the peace deal.
Police said they would have to deploy a larger presence than if the marches had been properly registered beforehand. One ended with footage of masked youths hurling petrol bombs at a police vehicle.
British intelligence agency has recently increased Northern Ireland's threat level of domestic terrorism to "severe," a sign of the tumultuous times..