Revolutionary method to be used in Brazil against dengue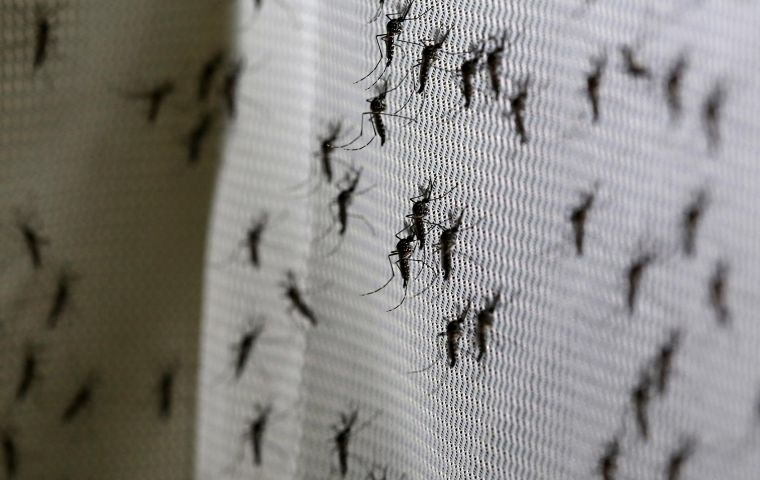 Scientists in Brazil are working on a large-scale mosquito factory in a move to protect up to 70 million people from viruses such as dengue, it was reported by the journal Nature.
The World Mosquito Program (WMP) says mosquitoes will be produced and released infected with bacteria that prevent them from transmitting viruses. It will reportedly be the world's biggest undertaking of its kind with a technology never before tested on such a scale.
Up to five billion mosquitoes will be released in urban areas of Brazil each year over the next decade, it was reported. The insects will serve as a counter mechanism against the spread of the disease.
Through a partnership with the Oswaldo Cruz Foundation, the mosquito farm is expected to start operating in 2024, but its location is yet to be determined.
WMP head Scott O'Neill, a microbiologist at Monash University in Australia, told Nature the facility would be the largest of its kind to produce mosquitoes infected with the Wolbachia bacteria. "And it will allow us in a short period of time to cover more people than in any other country," O'Neill explained.
Dengue re-emerged in Brazil in 1981 after an absence of more than two decades. Over the next 30 years, seven million cases have been reported in the country, more than anywhere else in the world. Brazil has also been severely affected by outbreaks of the Zika and chikungunya viruses.
The aedes aegypti mosquito carries viruses that cause dengue, yellow fever, and chikungunya, which it transmits through bites. The species thrives in wet places and coastal areas that serve as their breeding habitats.
Researchers in Australia, Brazil, Colombia, Indonesia, and Vietnam have already tested the release of modified mosquitos – with trials indicating the transmission of dengue can be reduced by up to 77%.