Lula supports Afro-Brazilian footballer dubbed "a monkey" in Spain's La Liga match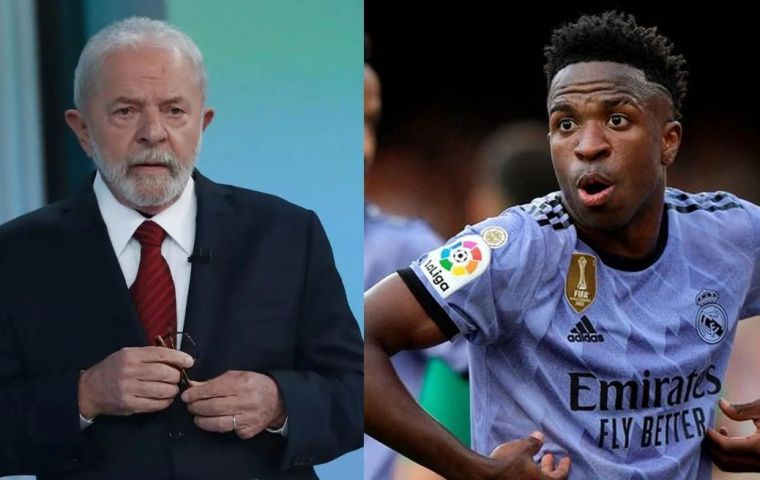 Brazilian President Luiz Inácio Lula da Silva took a moment Sunday in Hiroshima, Japan, to criticize what happened in Spain, when Real Madrid's Brazilian striker Vinicius Jr was dubbed "a monkey" by the home crowd as Valencia edged Real 1-0 in a Spanish Football League game.
"It is not possible that almost in the middle of the 21st century we have racial prejudice gaining strength in many football stadiums in Europe," he said. "It is not fair that the poor boy who has won in life, who is becoming possibly one of the best [players] in the world - certainly Real Madrid's best - is offended in every stadium he attends," Lula said.
Lula insisted that football's governing body FIFA and the Spanish authorities should take measures so that such a case of "racism and fascism" never happens again.
"It was not the first time, not the second, and not the third. Racism is a normal thing in La Liga. The competition thinks it's normal, so does the Federation, and the opponents encourage it. I regret it very much. The championship that once belonged to Ronaldinho, Ronaldo, Cristiano, and Messi is now a championship of racists. A beautiful nation that welcomed me and that I love, but that accepted to export the image of a racist country to the world. I am sorry for the Spaniards who do not agree, but today, in Brazil, Spain is known as a country of racists. And, unfortunately, for everything that happens every week, I have no way to defend it. I agree. But I am strong and I will go all the way against the racists. Even if it's far from here," he said.
The game was halted for about eight minutes 29 minutes into the second half. In stoppage time, Vini got into a scuffle with goalkeeper Giorgi Mamardashvili and, after being restrained by his opponent Hugo Duro, hit the Valencia goalkeeper in the face. In the end, only the Brazilian was punished, being expelled. Vinicius Junior left the pitch making the number two with his hand as Valencia face possible relegation to the 2nd Division.
"It's not football; it's La Liga (Spain's soccer league)," Vini Jr wrote on social media.
Valencia issued a statement saying that although it was an "isolated episode," there is no place for insults of this kind in soccer. The statement also reiterates that the facts are being investigated by the club. There was also a statement from the Spanish league, which said it had requested all the images of the match to better investigate what happened and that is also attentive to possible offenses to the Brazilian outside the Mestalla stadium. Also in the note of La Liga, it is said that complaints of racist practices against Vinicius Junior were filed on nine other occasions in the last two years.
In the post-match press conference, Real Madrid's coach, Italian Carlo Ancelotti, was outraged: "I don't want to talk about football, but about what happened here. This cannot occur, a whole stadium shouting something like this. He didn't want to continue and I would think it was fair because he is the victim. This can't happen," he stressed.
Lula is in Hiroshima, Japan, attending the G7 (the United States, Japan, Germany, the United Kingdom, France, Italy, and Canada) Summit as a guest. He spoke to the press before boarding his plane back to Brazil.
(Source: Agencia Brasil)