Argentina's presidential elections: CFK did not say it, but she showed it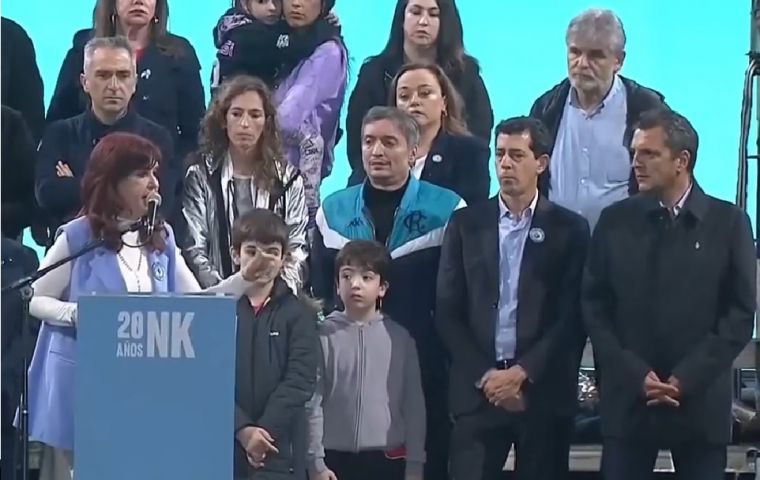 By Mordechai Taji

Argentine Vice President Cristina Fernandez de Kirchner (CFK) did not announce on Thursday anyone's candidacy - hers or not - for this year's elections. She did not do it with her voice. But by her side were her son, Deputy Máximo Kirchner, Interior Minister Wado De Pedro, and Economy Minister Sergio Massa. It was a visual message: two of those three will most likely be on one of the tickets to be presented in the primary, mandatory, simultaneous, and open elections (PASO). She also confirmed that she would not run and frustrated the hopes of some unconditional faithful, who expected her to change her mind.
On the other hand, with her voice, CFK recalled how Argentina thrived during her two presidencies and that of her late husband Néstor Kirchner, of whom this Thursday marks exactly 20 years. Hence the celebration in Plaza de Mayo by shadowing the usual May 25 holiday in memory of the events of 1810, when the last Spanish viceroy was expelled from Buenos Aires.
The current Speaker of the Senate also argued that Argentina's debt with the International Monetary Fund (IMF) was a political loan taken by the government of Mauricio Macri to get re-elected, something that did not happen even with that aid. She insisted that such reckless indebtedness must be investigated, but admitted that it was not to be expected under the current Supreme Court, which is a disaster at the head of a Judiciary that is the remnant of monarchic conceptions that call for an institutional change.
For CFK, the political loan requires a political solution and Argentina needs a program outside the IMF guidelines to achieve growth. She recalled that Néstor Kirchner used to say that the dead do not pay their debts. "If we Argentines do not succeed in getting the program that the IMF imposes on all its debtors to be set aside in order to create a program of industrialization and development, it will be impossible to pay," the Vice President stressed before tens of thousands of people who filled the historic square.
"Do they think they are going to be able to pay for it with commodities alone? No, because they always accommodate so that you continue owing. National unity is fundamental. They have to stop trying to direct politics to transform us only into commodity exporters. We have to add value so that there is quality work and good salaries. It can be done because we did it for 12 and a half years", remarked CFK, who was also very critical of liberal economists who talk as if they had the solution to all problems when in the end we "the kukas and the perucas" (derogatory versions of kirchneristas and peronistas used by the opposition) are the ones who end up paying their bills.
Liberals ask for little state intervention, explained CFK. When Néstor Kirchner took office in 2003 "the State was small and the debt was big". That is why "it is necessary that we take" this message "to all corners of the country", she continued.
According to Buenos Aires analysts, what CFK did in her speech was to belittle Juntos por el Cambio (JxC) for its four years of management (2015-2019) warning that it would be inconceivable that any candidate of that party could reach the presidency. She also warned about what liberals such as Javier Milei (or his ideological colleague Domingo Cavallo) would imply. Although she did not mention either of them by name, she did underline how the Argentine State ended up financially covering Aerolineas Argentinas (when it was Spanish-owned) or how YPF did not make any investment to self-supply the country with oil. She also recalled that, under the Kirchnerist government, Vaca Muerta started to be exploited.
CFK also called for a new democratic pact among Argentine politicians, stating that it is not possible that some of them want to annihilate those who do not share their ideas. Vice President Fernandez also recalled that Argentines were celebrating in Plaza de Mayo on October 30, 1983, when someone "who was not from my party" [former President Raúl Alfonsín] had won the elections, putting an end to the military dictatorship.