Argentinian scientist becomes first woman to head WMO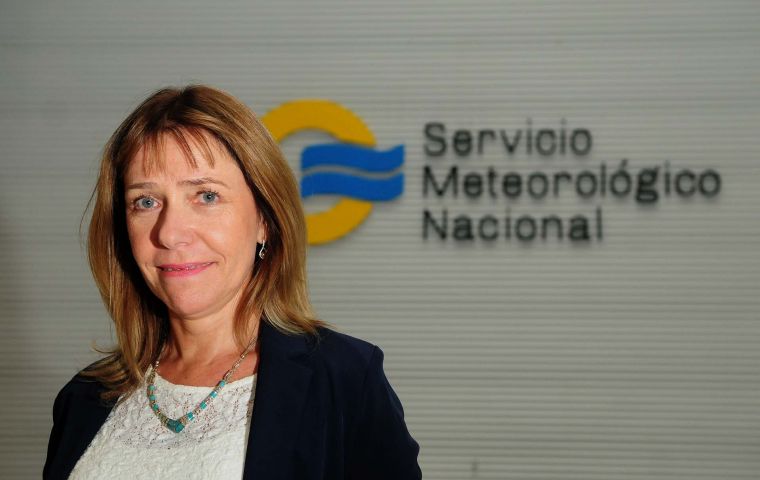 Argentina's National Meteorological Service Director Celeste Saulo has been chosen to become the new Secretary General of the World Meteorological Organization (WMO), it was announced Thursday in Geneva.
The Argentine scientist thus becomes the first woman in history to occupy the General Secretariat and also the first Latin American person to reach that position.
With 108 votes, Saulo received the necessary two-thirds backing from member states Thursday, surpassing candidates from China, Switzerland, and Curaçao. She has served as the director of Argentina's National Meteorological Service since 2014.
"My ambition is to lead WMO towards a scenario in which the voice of all members is heard equally, prioritizing those most vulnerable and in which the actions it undertakes are aligned with the needs and particularities of each of them," said Saulo. "At a time when inequality and climate change are the greatest global threats, the WMO must contribute to the strengthening of Meteorological and Hydrological Services to protect populations and their economies, providing timely and effective services and warnings."
Saulo holds a PhD in Atmospheric Sciences and has been collaborating in various scientific programs of the World Meteorological Organization for more than 15 years. In 2014, she took over as director of the National Meteorological Service, the year in which she became Argentina's permanent representative to the WMO. In April 2018, she was elected second vice-president of the WMO and, in June 2019, she became first vice-president. In that role, she chaired the WMO Research Panel.
The World Meteorological Organization is the United Nations agency dedicated to weather, climate, and water. It is composed of 193 Member States and territories and is active in the development of technical expertise and international cooperation in the fields of weather, climate, and water, as well as other environmental issues.
Saulo succeeds Petteri Taalas, who steps down after two terms as secretary general at the end of the year.