Pope Francis recovering well after hernia surgery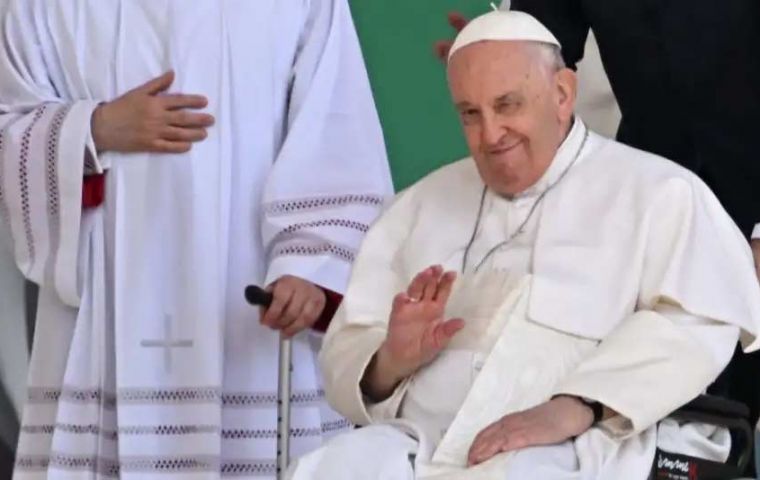 Argentina-born Pope Francis Wednesday underwent abdominal hernia surgery "without complications" at the Gemelli Hospital in Rome, where he will remain for a few days, it was reported. The Pontiff is expected to resume his activities by June 18, the Vatican confirmed.
"The surgical intervention is over. It was carried out without complications and lasted three hours," the Holy See said in a statement.
The Pope was operated on in July 2021 for diverticulitis for which he had 33 centimeters of intestine removed due to a "symptomatic diverticular stenosis of the colon" that kept him hospitalized for ten days. Earlier this year, he had told the press that the diverticulitis had returned but was "under control."
But on Wednesday, Vatican Spokesman Matteo Bruni announced that "at the end of the General Audience" the Pope went to the A. Gemelli University Hospital to undergo "laparotomy and plastic surgery of the abdominal wall with prosthesis under general anesthesia" to finish closing the wound caused by the 2021 surgery.
According to Bruni, "the operation ordered in the last few days by the medical team assisting the Holy Father became necessary because of an incisional hernia that is causing recurrent, painful, and worsening subocclusive syndromes."
After the operation, Pope Francis, 86, was said to be "well, awake and conscious," according to the surgeon who operated on him, Sergio Alfieri.
"The first thing is that the Pope is well, I think that's the news we were all waiting for. He is well, awake, conscious, and has already made a joke ten minutes ago," the physician said in a press conference.
This is the third time that the pope has been admitted to the Roman hospital, where he was admitted for three nights at the end of March for "acute pneumonia."
The pope also suffers from a problem in his right knee that forces him to walk with a cane or to move around in a wheelchair and he has assured on several occasions that he does not want to have surgery.