Biden says Lula wants to meet him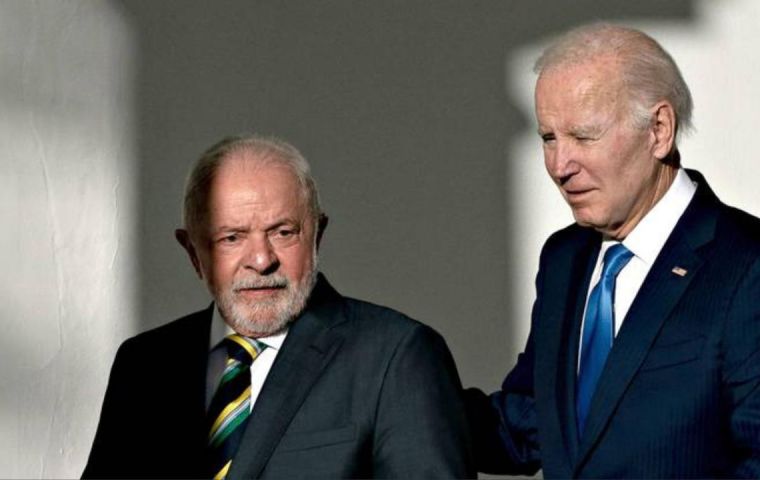 US President Joseph Biden Friday said his Brazilian counterpart Luiz Inácio Lula da Silva wanted to meet him to discuss climate issues, Agencia Brasil reported. "Lula of Brazil wants to meet with me soon because you know there is more carbon absorbed from the air in the Amazon than all the carbon admitted to the United States annually," Biden pointed out during a campaign event.
In June, Lula unveiled a plan to fulfill a promise to eliminate illegal deforestation in the Amazon, the world's largest rainforest, by 2030.
Biden did not say when or where the meeting would occur while Planalto Palace sources confirmed that the meeting "should take place." Both leaders are to attend the United Nations General Assembly in September in New York in September.
Meanwhile, Lula met Friday with Paraguay's President-elect Santiago Peña, in Brasilia, "in a fruitful meeting", in which they discussed the common agenda in trade and investment matters, as well as the Mercosur agreement with the European Union." Lula's presence in Asunción for Peña's inauguration was also confirmed.
"I really enjoyed the meeting (with Peña). We talked about the agreement between the European Union and Mercosur and the need for us to commit ourselves to get things done quickly," Lula said on social media. "We want to work together in these years ahead with our common mandates," he added.
This is the second meeting in Brasilia with the future Paraguayan president since his election last April, "which confirms the relevance of bilateral relations and the goal shared by both societies," the Brazilian presidency said. "Lula and Peña had a fruitful meeting and discussed the common agendas that, in the coming years, will bring the countries closer together," it added.
Both leaders also reviewed the bilateral Itaipú hydroelectric dam and cooperation in the fight against transnational crime and defense.
Peña told reporters he had had "a fantastic meeting" with Lula, in which they were able to "strengthen the ties" between the two countries and "the joint vision of a united Latin America, of a united Brazil and Paraguay."
"The vision we have on Itaipú, which (whose revisions of part of the treaty) begin on August 13, on trade issues, how to streamline what is trade between our countries, I told him about my visit to the state of Sao Paulo, (where I was) talking to businessmen, telling the vision of Paraguay that wants to work together with Brazil," Peña explained.
"I am convinced that we have a shared vision between President Lula and myself that these are going to be the best years, that we have a unique possibility to move forward decisively, and, of course, Itaipú is a central issue, but it is part of a much broader agenda of areas of bilateral cooperation that will allow our countries to continue moving forward together," he added.
The two leaders also discussed Mercosur's agreement with the European Union and South American integration. Peña said they had spoken of a "strong Mercosur that can be the production platform" for all member countries.