Speaker of the House launches probe into US President Biden's private dealings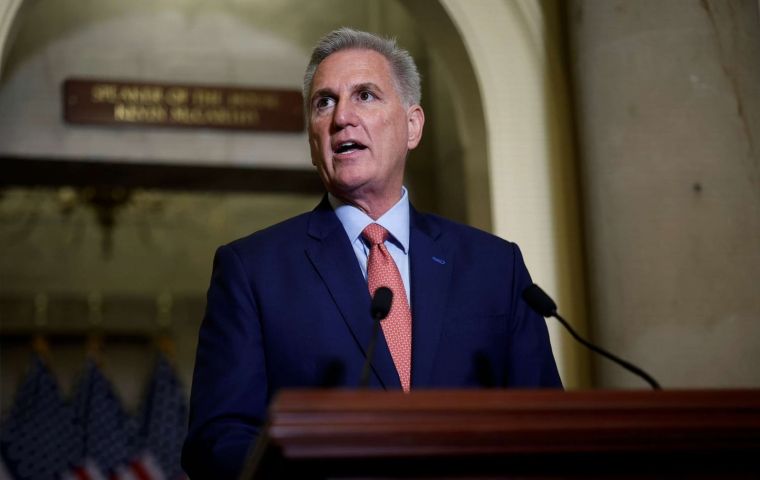 House of Representatives Speaker Kevin McCarthy of the Republican Party announced Tuesday he had ordered an investigation into President Joseph Biden and his son Hunter's banking transactions in a move to gather evidence for the beginning of impeachment procedures against the head of state.
McCarthy explained that the measure was the next "logical step" in the investigations undertaken by the conservative group since it regained control of the Lower House in January after the November 2022 mid-term elections. Impeachment needs validating from the full House, where it is not yet clear that McCarthy has the backing of moderate Republicans in his caucus.
"This logical next step will give our committees the full power to gather the full facts and answers for the American public," McCarthy said from Capitol Hill. "That's exactly what we want to know -- the answers. I believe the president would want to answer these questions and allegations, as well," he insisted.
"I am directing our House committees to open a formal impeachment inquiry into President Joe Biden. Over the past several months, House Republicans have uncovered serious and credible allegations into President Biden's conduct - a culture of corruption," he also pointed out on social media.
At any rate, if the case makes it through the House where Republicans have a 5-seat majority, the likelihood of it going forward is limited once it reaches the Democratic-controlled Senate.
Republicans are targeting the Biden family's alleged business dealings with the country's "adversaries" such as China, taking advantage of their political ties. The various allegations already found in this regard, according to McCarthy, "are credible and paint a picture of a culture of corruption."
"We have found that the president lied to the American people about his own knowledge of his family's overseas business dealings. There are witnesses who have said that he participated in numerous calls, meetings, and dinners that resulted in cars and millions of dollars to his son and his son's business associates," he said.
In McCarthy's opinion, the Biden family has received "favorable treatment from the Democratic administration" that would not have been provided to them if they were not related to the current president.
The conservative lawmaker considered that these accusations of "abuse of power, obstruction, and corruption" deserved additional investigations. Hence, the impeachment investigation to gather "all the facts."
Leading the requested investigations will be House Oversight Committee Chairman James Comer, in coordination with Judiciary Committee Chairman Jim Jordan and Ways and Means Committee Chairman Jason Smith.
"House Republicans have been investigating the president for nine months and they've turned up no evidence of wrongdoing," White House Spokesman Ian Sams said on X, formerly known as Twitter. "His own GOP members have said so. He vowed to hold a vote to open impeachment. Now, he's flip-flopped because he doesn't have support. Extreme politics at its worst."
Senate Majority Leader Chuck Schumer told reporters Tuesday: "The American people want us to do something that will make their lives better, not go off on these chases and witch hunts."
"Sometimes you have got to tell these people who are way off the deep end, who have no interest in helping the American people, who just want to pursue their own witch hunts, that they can't go forward with it," Schumer said.