No favorite between Milei and Massa ahead of runoff
Saturday, November 18th 2023 - 10:57 UTC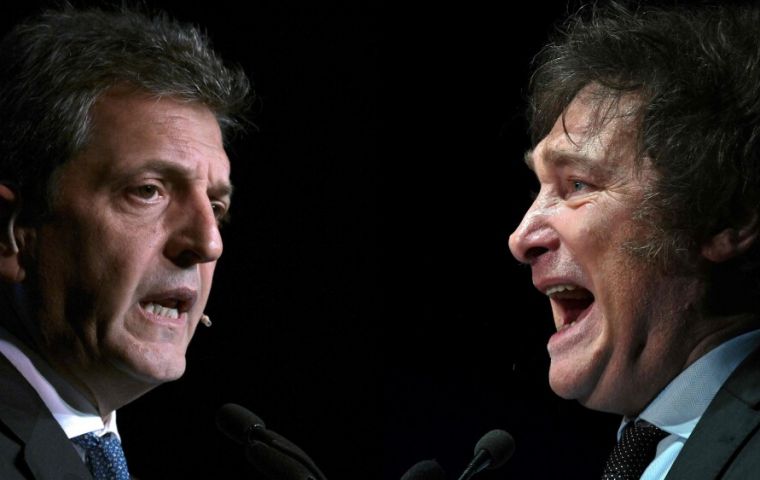 One day before the runoff election between Economy Minister Sergio Massa and Libertarian Congressman Javier Milei, most opinion polls do not agree on who is more likely to become Argentina's next president. The only consensus seems to hinge on the role of undecided voters who make up their minds at the last minute. In addition, many are already certain they will cast a blank ballot in a country where such an act is mandatory.
With Massa at the helm of the country's economy, Argentina's annual inflation rate reached 143% and poverty 40%. It remains to be seen whether Milei's promise to abolish the central bank and replace the national currency with the US dollar would solve the problem. Or how, and at what cost.
It is also a mystery how the support of former president Mauricio Macri and former candidate Patricia Bullrich, who came in third on October 22, will play out for Milei. It would certainly add to the anti-Massa electorate, but it could scare away people with bad memories of the Macri years (2015-2019). Discontent under Macri was so high he lost to Alberto Fernández in the first round, that is without a runoff.
Macri and Bullrich represent the part of the seemingly extinct opposition coalition Juntos por el Cambio (JxC) that sided with the La Libertad Avanza candidate, while Buenos Aires Mayor Horacio Rodríguez Larreta and former Buenos Aires Province Governor María Eugenia Vidal, among other leaders, went the other way.
A third of the population "does not know who to vote for," according to AFP. Some 35.3 million Argentines are registered to vote at 113,410 polling stations nationwide.
On Oct. 22, Massa received 36.68% of the vote to Milei's 29.98%. Although the economy minister won, he failed to pass either the 45% threshold or the 40% barrier with a margin of 10% or more over the second-place candidate. Hence the runoff.
Whoever wins on Sunday will succeed Fernández for the 2023-2027 term. About 86,000 troops and law enforcement officers will be deployed, it was also reported.