Lavagna with "slim" chances of beating incumbent candidate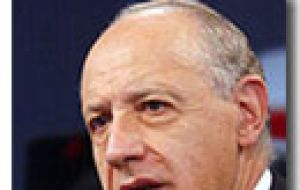 Former Argentine Minister of Economy Roberto Lavagna could become "the main opposition candidate" but his chances of winning October's presidential elections are "slim" said a reputed Argentine political analyst and public opinion polls expert

Rosendo Fraga talking with the Buenos Aires press said that Lavagna's current support is in the range of 10 to 13% and if he manages to unite with the two other main opposition candidates, Conservative Mauricio Macri and centrist Elisa Carrió he could manage a "similar" percentage to First Lady Cristina Kirchner, however he would still be "four to five" points below Nestor Kirchner if the president decides to bid for re-election. "That is the great advantage of the incumbent candidates, the divided opposition", added Fraga who nevertheless said that in politics, "history shows there's nothing impossible, but Lavagna's chances are slim, it's a possibility with a low probability". Fraga said that "Argentine society currently has a different ideological bias" to that of Lavagna or Macri since she stands "more center left than center right" and therefore the chances are more inclined for a center left candidate than for "a center right candidate". Specifically on the man who is considered the architect of the current strong Argentina economic recovery and who worked for Kirchner until the end of 2005, Fraga said "Lavagna has probabilities of becoming the main opposition candidate, but low probabilities of becoming a winning candidate" next October. Fraga said Lavagna's campaign "must be political and not economic", since in the current context, "a candidate will be voted if he's not preaching against the current economic situation". The economy has become the "strong point" for the Kirchner administration, a merit which is also shared by Lavagna who therefore he must concentrate his campaign on "the political institutional issues". According to Fraga's opinion polls, Macri, Lavagna and Carrió, at the beginning of 2007, range in similar percentages of vote intention, "between 10 and 13%". The political analyst did not discard that Cristina Fernandez de Kirchner would finally be confirmed as the incumbent candidate, given the "Peronist culture" regarding the figure of the mythical Eva Duarte de Peron, which makes the presence of women in the highest office "as something normal" for the Argentine electorate. However taking into consideration other "personality issues", the candidate could very well be President Kirchner, whose standing in the opinion polls has always been above those of his wife Senator Cristina Fernandez.