Strong stock markets reactions to Fed's forecasts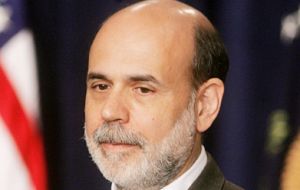 Stock markets in New York and most of Latinamerica set new record gains on Wednesday following US Federal Reserve Chairman Ben Bernanke statements that the US economy should grow modestly in 2007 despite a slowdown in housing.

Bernanke began Wednesday a two days congressional testimony telling the Senate Banking Committee that moderate economic growth is likely and that the Fed remains worried about inflation, despite recent improvement on that front. Bernanke said that the estimates of Fed governors and regional bank presidents call for real GDP to increase about 2.5 to 3% in 2007, slightly lower than the projection given last July. For 2008, the forecast calls for growth of about 2.75 to 3%. On inflation, Bernanke said the decline in oil prices has caused a fall in overall inflation. Also, readings on core inflation, which exclude the impact of food and energy, have improved modestly in recent months - though the rate remains "somewhat elevated". He reaffirmed that the Fed is prepared to take action to address inflation risks if necessary. Inflation estimates excluding food and energy range between 2 and 2.5% this year and 1.75% to 2% in 2008. In 2006 inflation reached 2.3%. Unemployment is expected to stabilize at 4.5% to 4.75% in 2007 and 2008 following on the 4.5% of 2006. During the question and answer portion of Bernanke's testimony, several Senators questioned him about growing income inequality, which he recently spoke about at a conference in Omaha. Bernanke reiterated his opinion that the best solutions to closing the income gap include better education and job training. Bernanke also expressed some concerns about the record U.S. trade deficits although he suggested that raising barriers to trade would do more harm than good. The Federal Open Market Committee, the monetary policy-setting arm of the Federal Reserve is scheduled to make its next decision on interest rates after a two-day meeting ending March 21. The FOMC left rates unchanged at its five previous meetings. After its most recent meeting in January, the FOMC released a statement saying that recent indicators have suggested somewhat firmer economic growth. The statement also cited some improvement in core inflation, but said that the high level of resource utilization has the potential to sustain inflation pressures.