Bolivia takes control of oil and gas industry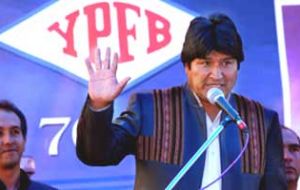 Bolivia's government owned energy company YPFB took control on Wednesday of the country's oil and gas industry after a dozen oil companies, including Repsol YPF SA, British Gas, Total and Petrobras signed new contracts today.

YPFB will be in charge of running Bolivia's oil and gas pipelines, domestic sales and exports, company President Guillermo Aruquipa said in an e-mailed statement. The 44 new contracts will earn the company 2 billion US dollars in 2007, according to the statement. However Petrobras threatened to seek arbitration to establish fair compensation for its two Bolivian refineries taken over by YPFB. Petrobras representative in Bolivia Fernando Borges said "there are appropriate forums to solve controversies" adding that Petrobras will always protect its interests "under Bolivian rule of the law". Apparently Bolivia has offered to pay 60 million US dollars but Petrobras is demanding at least 200 million. Brazil's Mines and Energy minister Silas Rondeau was quoted saying negotiations are "advancing" in a good climate with "willingness from both sides". Last year, President Evo Morales seized oil and gas fields and refineries and forced oil companies to agree to higher taxes in a bid to grant Bolivia a greater share of its natural resources. "These companies have understood they're not the owners of Bolivia's natural resources,'' Morales said in a broadcast by La Paz-based Radio Panamericana. ''The Bolivian State now has the obligation to look for partners to bring in investment.'' But oil companies criticized Morales' decision to withdraw from the World Bank's International Center for Settlement of Investment Disputes. ''This measure will affect Bolivia's competitiveness to attract new investment,'' Bolivia's Hydrocarbon Chamber said in an e-mailed statement. ''It will also affect country risk.'' Investment in Bolivia's oil and gas industry fell to 120 million last year from 650 million US dollars in 2002, according to the lobby, which represents 100 companies operating in Bolivia. Bolivia has the second largest gas reserves in South America behind Venezuela. Brazil and Argentina are Bolivia's main natural gas clients.