RN newest patrol ship visits Clyde before heading for Falklands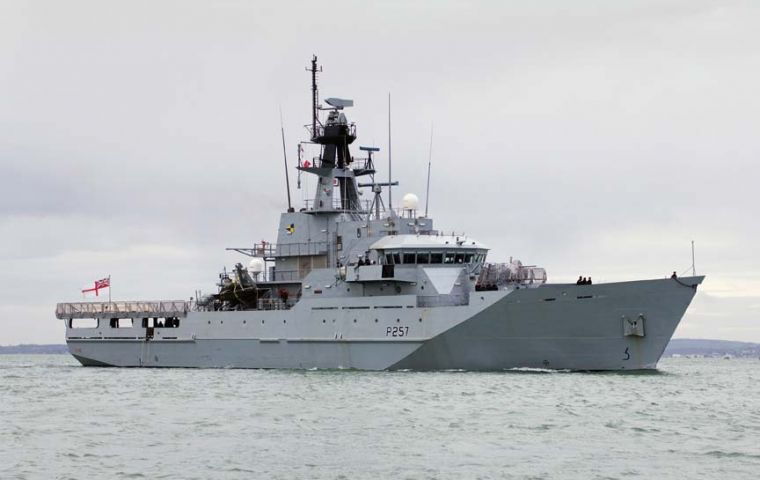 The Royal Navy's newest patrol vessel HMS Clyde will pay her first and last visit to her affiliations in Inver Clyde this weekend (26-29 May).
This visit, her first since her launch in 2006, will also be her last for many years as she will shortly be heading for the South Atlantic to assume her new role patrolling the waters in and around the Falklands Islands. HMS Clyde will support the security of the Falkland Islands maintained since the conflict in 1982. All ships and submarines of the Royal Navy are affiliated to different towns, cities and regions. This strengthens the Royal Navy's ties with important communities, including organisations such as councils, naval associations, youth groups and charities. Unlike the ships she's replacing (HMS Dumbarton Castle and HMS Leeds Castle) which had to return to the UK every three years for major repairs, this new offshore patrol vessel has greater reliability and a more modern design which will enable her to remain permanently deployed on task in the South Atlantic. Berthed at Customs House Quay in Greenock, the 2200 tonne ship will host a number of groups on board including civic dignitaries and visits from local schools and youth organisations. There will also be a chance for the public to look around the 81 metre ship when she throws open her gangway to visitors on Sunday 28 May 13.00 â€" 16.00. Admission is free. Lieutenant Commander Simon Hopper, Commanding Officer of HMS Clyde, said: "We are very much looking forward to showing the people of Inverclyde around our new ship and as this is our affiliated region I hope to establish relationships with local people and organisations with whom we can keep in touch while we are on patrol." Whilst the ship is entertaining the public on Sunday a working party will be spending an afternoon at the Sir Gabriel Wood Mariners Home in Greenock, tending to its gardens and sharing sea tales with its residents. The visit to Greenock is a welcome break for the 40-strong ship's crew who have just completed a gruelling few weeks of operational sea and safety training, essential before she starts her tasking. Following her departure on Tuesday she will pay a final call to her base port of Portsmouth before undertaking a month of aviation and amphibious training and heading to the Falkland Islands, some 8000 miles away, this summer.