Argentina: excellent squid season but weak foreign demand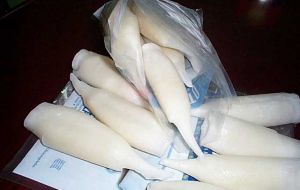 The current Illex squid season for Argentina has been one of the best in the last five years but exports have not been as dynamic: in the first quarter of this year overseas sales were a modest 37.300 tons, (36 million US dollars) according to Chubut province press reports.

Landings so far this year (end of May) have reached 160.500 tons of Illex squid, with peaks in March, 67.904 tons and April, 60.505, while until the third week of May the volume had dropped to 17.450 tons. Puerto Deseado leads landings with 75.432 tons, followed by Mar del Plata, 46.901 and Puerto Madryn, 25.781. However the Argentine squid industry, in spite of the excellent catches, is complaining that international prices are down, demand is weak and fishing in the high seas, at the 200 miles plus one area are seriously undermining profits. Chubut province press reports that in the coming days Argentine flagged jiggers will be moving north of parallel 44 South, once the annual ban on the area becomes effective. Currently the fleet is operating in the area between parallels 47 and 48 South, close to the external boundary of Argentina's EEZ.