Iranian leader cements Chavez relationship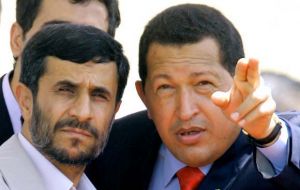 Venezuelan and Iranian presidents Hugo Chávez and Mahmoud Ahmadinejad ratified their "anti-imperialist" stance and assured a "new time of justice" for the oppressed peoples around the world is starting.

The allies are becoming increasingly close as they seek to reduce the influence of the US. Mr Ahmadinejad's visit follows a stop in Bolivia where he pledged $1bn (£495m) of investment to help the country exploit oil and gas reserves. The Iranian president flew into Venezuela to a warm welcome from Mr Chavez. The leaders embraced on a red carpet in front of the presidential palace. Mr Chavez described his ally as "one of the greatest fighters for true peace" -a view that is not widely shared, especially in Washington. The Iranian and Venezuelan leaders see themselves as brothers, with similar political aims. Both are keen to reduce the influence of the US, so they are joining forces to create more state enterprise. They are working together on a number of projects from gas and oil exploration to the manufacture of cars and tractors. Similar agreements are in place in Bolivia, with further Iranian investment promised. Critics and opponents are increasingly dismayed by their leaders' choice of friends. But Mr Ahmadinejad said the alliance would allow their people to emerge victorious.