Ozone layer hole reaches outskirts of Punta Arenas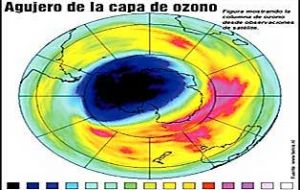 Punta Arenas in the extreme south of Chile, over the weekend and for another couple of days, is estimated to be in the edge of the Antarctic ozone layer hole significantly increasing risks to human beings and living things.

Claudio Casiccia, scientific researcher and head of the Ozone Monitoring Lab at the University of Magallanes said that the ozone layer hole had moved over the region, as usually happens this time of the year, which was recorded on the Dobson units scale with a reading of 230. Scientists consider that an area in under the "hole" when Dobson readings reach 220 and below. "Currently the ozone layer hole covers an area of 22 million square kilometers. In 2006 it was 26 million sq. kmts. From the Antarctic continent the hole has been moving towards the Magallanes region having reached the outskirts of Punta Arenas", indicated Casiccia. However ultraviolet solar radiation in Magallanes Region has remained at levels 1 to 3, considered low (green alert). But on clear days it climbs to 4 and 5. Casiccia said the situation over Punta Arenas will last for another couple of days but with no extreme values of UV radiation. Nevertheless local residents must take the normal precautions such as limiting sun exposure to fifteen minutes. In Chile's Antarctic bases, Eduardo Frei and Bernardo O'Higgins the Dobson scale readings dropped to 160/180 with UV reaching 5 (yellow alert) since they are located in the heart of the ozone layer hole.