Friday,
October
5th
2007
- 21:00 UTC
Brazil tightening on foreign purchase and ownership of land
Global liquidity in recent years has led to a boom, --and speculation--, in real estate and farming land in Mercosur member countries. Argentina, Brazil, Uruguay and Paraguay have seen land prices soar pushed by foreign buyers and now governments are reacting tightening restrictions on land ownership.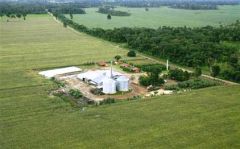 The first determined to address the issue head on seems to be the Brazilian government which is looking into ways of ensuring domestic control over the country's competitive farms and resource-rich Amazon. "Foreigners have fueled a real-estate boom, buying farm land along Brazil's expanding agricultural frontier and second homes along the northeastern coast", say government officials. Many have circumvented current restrictions for foreign individuals and companies by using Brazilian firms as a front but that practice is set to end according to Rolf Hackbart, president of Incra, the Brazilian agency in charge of land reform and property titles. The objective is to limit land acquisition by foreign capital acting through Brazilian companies and "this is not a question of xenophobia, but every country needs to be the owner of its territory", says Hackbart. The new rules look to impose the same restrictions already existing for foreign companies purchasing land directly. They are currently allowed to buy 100 MEIs, a unit of land that varies in size from one municipality to another. The attorney general's office said it expected to outline a proposal by next week. With promising prospects of a boom in the bio-fuels industry President Luiz Inácio Lula da Silva said last May that "we need to be careful not to allow people from other countries to buy all the land in Brazil to produce sugar cane." Nationalists, particularly in the foreign and environment ministries as well as among the military, have complained about the presence of foreigners in the Amazon. "They buy the best land and drive up the prices, paying in cash," said Hackbart, increasing the government's cost to redistribute land to poor peasants.