Uruguayan ruling coalition prepares for electoral 2009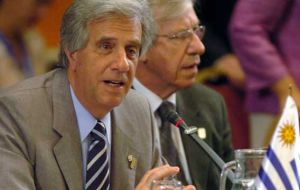 Uruguayan president Tabare Vazquez on the third anniversary of his administration completed the reshuffling of the cabinet in preparation for the 2009 electoral year.

"These changes are not the result of a political crisis or spontaneous, on the contrary they were carefully planned in October 2004 when our coalition won the elections", said Vazquez on Monday anticipating the pre-electoral 2009. Three of the ministers leaving their posts are leaders of the main forces in the Uruguayan catch-all ruling coalition which expands from Christian democrats to former radical guerrillas and the communist party. Particularly significant is the departure of Jose Mujica, a former guerrilla who was Agriculture minister and his name has been repeatedly tipped for a possible presidential ticket in the October 2009 elections. His political group was the most voted in the 2004 election and similarly he was the Senator with the highest popular backing. If the decides not to include his name in a presidential ticket, he will certainly be king maker, according to local political analysts in Montevideo. Another leader stepping down is the former Minister of Housing and Environment, Mariano Arana, twice mayor of Montevideo but he has confessed he has no further ambition than to ensure a good electoral result for his middle of the road grouping. Finally the orthodox Socialist outgoing Foreign Affairs minister Reynaldo Gargano who has been criticized for his closeness with Cuba and Venezuela. However in the Socialist party the pragmatics (led by President Vazquez) are a majority so Gargano given his age will be returning to the Senate where he has anticipated "a frontal criticism" to the current economic policy of the coalition which he describes as "unfair" and "with a wealth concentrating effect". Vazquez said that on taking office with his cabinet in March 2005 "we targeted a cabinet team that could transmit strength and solidness", combined with the "necessary balances" to ensure a peaceful administration of government. The cabinet reshuffle actually was announced in mid February effective March. Besides Foreign Affairs, Agriculture and Livestock and Housing and Environment, other changes included Industry, Energy and Mining, Defence and Education and Culture. The most outstanding of the new ministers is Gonzalo Fernandez in Foreign Affairs, a solicitor and President Vazquez closest advisor who until now was Secretary of the Executive. He is a pragmatic Socialist, expert in crime law, who actually was involved in sensitive foreign affairs issues such as the pulp mills dispute with Argentina and relations with United States over a free trade agreement, much resisted inside the ruling coalition. However all eyes are now set on Economy minister Danilo Astori, a capable accountant who has applied orthodox economics, promoted foreign investment, sponsored a balanced budget, reduced foreign debt and according to macroeconomic indexes has been particularly successful taking advantage of the global surge of commodities prices. Astori has never denied his presidential ambitions and is expected to leave office and return to the Senate and grass roots politics sometime in May after this year's annual budget has been presented. Sources close to President Vazquez have indicated he favors a presidential ticket with the names of Astori and Mujica, the pragmatic orthodox who has the potential to attract independent votes and the former guerrilla and most effective vote catcher in the coalition. But, besides politicians' egos, both are in their seventies and their names have been in politics since the sixties, maybe too much even for a conservative, old age country where young generations keep emigrating in spite of the aura of change and renewal the ruling coalition incarnated in 2004.