Paraguay's future cabinet blends continuity &renewal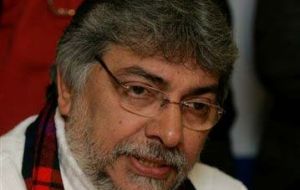 Paraguay's president-elect Fernando Lugo whose historic election ended six decades of one-party rule in the country named a former leftist militant to head his Cabinet when he takes office on August 15.

Miguel Lopez Perito, 57, was one of the leaders of Paraguay's leftist Military Political Organization, which plotted to violently overthrow dictator General Alfredo Stroessner in the mid-1970s. But many of the militants were captured by Stroessner's secret police before their plan bore fruit. Lopez Perito, who is a sociologist, said his militancy during that time was "part of the fight for democracy, social justice and to bring an end to the repression of the peasants, students, workers and the opposition". The future cabinet chief added that "now we live in different times". Lugo's April election victory in alliance with the Authentic Liberal Radical Party, (PLRA) ended decades of uncontested power by the Colorado party, including General Stroessner's 35-year iron fisted military dictatorship Lugo, a former Roman Catholic bishop dubbed Paraguay's "Bishop of the Poor" also announced that former Army General Luis Bareiro would be his Defence minister while agronomist Dionisio Borda would head the Economy Ministry. Both men held the same Cabinet positions during the first three years of outgoing President Nicanor Duarte's tenure. The Welfare Office, which does not have ministerial rank but depends directly from the Presidency and will have a key role in delivering electoral promises, will be in the hands of a priest Pablino Cáceres. Historian and sociologist Milda Rivarola will be responsible for Foreign Relations and Senator Rafael Filizzola as Home Secretary. Another lady, Esperanza Martinez will be head of Public Health. PLRA ministers include Candidao Vera in Agriculture and Livestock; Blas Llano in Justice and Labor; Efrain Alegre for Public Infrastructure Minister and Martin Heisecke, Industry and Trade. However the crucial posts in Energy and representatives at the bi-national hydroelectric boards of Yaciretá and Itipú dams, shared with Argentina and Brazil respectively, "will be announced on my return to Paraguay next Thursday", said Lugo. Paraguay is the only country in South America with vast surpluses of energy from the continent's two largest dams but according to contracts electricity can only be provided to Argentina and Brazil who financed the undertakings, and also virtually set the price of the MW. Paraguayans claim values are far below market and with the difference the country could address many of the social problems it faces. In an energy short world, and region, the issue is forecasted to become an irritating issue for both of land locked Paraguay's huge neighbors. Lugo made the announcements before leaving for a regional visit to several countries, Bolivia, Ecuador, Colombia and Venezuela.