Vazquez presents his presidential candidate to business leaders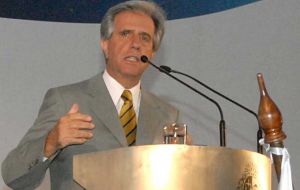 Uruguayan president Tabare Vazquez launched this week before the international business community the presidential candidacy of his outgoing Economy minister during the opening of a trade and investment forum sponsored among others by The Economist Intelligence Unit.

Vazquez praised Minister Danilo Astori for his talent and achievements hours before he abandoned the post he has held since March 2005 to return to his Senate seat and to campaign for the ruling coalition candidacy which he still has to dispute with another hopeful who happens to be the most popular politician in government behind the president, Jose Mujica. "At all times and places, ministers of Economy walk in by the big door and leave by the exit door. Transit from one door to another is very brief. But there are exceptions and Astori in one of them", underlined Vazquez to a packed auditorium of regional businessmen, bankers, industrialists, economists and academics who gathered in Montevideo for a two day forum under the auspices of The Economist Intelligence Unit to discuss investment promotion. However the president added that the performance of the Economy minister was not personal nor belonged to a group, "but to a program which is the commitment of the government and the political project" of the ruling coalition, Broad Front. Vazquez underlined that the current policy will be maintained for the rest of his mandate, under the incoming minister, which concludes March 2010. "We will continue consolidating fiscal responsibility with sustained development of social policies. Economic growth with social justice" said Vazquez who again praised Astori for his strong hand at the helm. The ruling catch-all coalition, (which extends from Christian Democrats to Communists and former guerrillas), since taking office in 2005 under Astori has applied orthodox economic policies taking advantage of the windfall earnings from Uruguay's commodities' exports. In the last four years the Uruguayan economy has expanded at an average 7 to 8% annually, slashed unemployment by 50%, boosted exports and invested heavily in social programs to reduce poverty levels. But a sustained investment level is lagging and was the motive for the forum, besides coinciding with Astori's exit through the big door. In a brief reference to the international situation Vazquez who is an oncologist said the "world is suffering too much economics and lacking philosophy", it seems as the "hospital has been taken over by the patients". And although "much has been achieved", the government still "has much to do and is lacking time", and in some ways there's much more to be done than before, "but that is because achievements impose new objectives". Nevertheless he warned that "having a rich economy with poor people is dangerous". Astori who has Vázquez full support must compete with Jose Mujica, a former guerrilla and pragmatic leader of the most voted group in the coalition. President Vazquez would like to see the ticket: Astori-Mujica, but Mujica's bag of votes includes left wing radicals who don't accept the former Economy minister, whom they consider "too capitalist" and therefore insist on a ticket with the former guerrilla in first place. But Astori is a more palatable white collar candidate for non coalition and conservative votes that helped attract a decisive percentage of old regime disenchanted votes for the first round October 2004 victory of the current catch-all ruling coalition and President Vazquez.