Suitcase scandal: where's the rest of the money?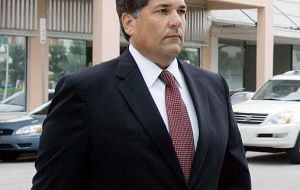 Guido Alejandro Antonini Wilson, the star witness of the money-stuffed suitcase scandal which involves Argentine and Venezuelan officials, declared in a federal court in Miami that the plane in which he flew August 2007 to Buenos Aires was carrying a second suitcase with 4.2 million US dollars besides the 800.000 which were seized by Buenos Aires Customs.

The US-Venezuelan businessman also confirmed on Tuesday what had been anticipated by independent sources: that he was invited to a reception for Venezuelan president Hugo Chavez in Argentina's Government House, Casa Rosada. Antonini did not specify what the purpose of the money was but he did confirm that a top Argentine official from the President Kirchner administration later thanked him for having accepted responsibility for the suitcase with the 800.000 US dollars. Before the court Antonini insisted that the money was not his, it belonged to the Venezuelan government oil corporation and only found out later that the suitcase was stuffed with cash. According to the witness, the privately chartered aircraft left Caracas with a delegation of officials from Venezuela's oil corporation, PDVSA and Argentine officials among which Claudio Uberti, the personal liaison between Mr. Kirchner and Venezuelan president Hugo Chavez, particularly regarding energy and financial affairs. "Claudio Uberti offered me whatever I wanted in Argentina and said I had done him and the country a great favor". According to the Miami federal court prosecution and another clue witness, Venezuelan lawyer Mosies Maionica, the 800.000 US dollars were from the Venezuelan government and a contribution to the electoral campaign of then presidential candidate, Senator Cristina Fernandez de Kirchner. Although some witnesses had revealed that there had been other (cash) money contributions to Mrs. Kirchner campaign, this is the first time that the existence of a greater sum, 4.2 million US dollars emerged. However Antonini only found out about the 4.2 million US dollars when he met in Buenos Aires with Diego Uzcategui, then PDVSA vice president in Argentina, a day after he was caught with the 800.000 US dollars on August 4, 2007. Uzcategui asked Antonini about "the rest of the money" to which Antonini replied he did not know what he was talking about. "That's when the mentioned the other suitcase with 4.2 million US dollars", said Antonini. Uzcategui complained he was "fed up" with having to carry large suitcases full of money and the problem will have to be solved by "the Argentines". "They screwed it, they'll have to fix it" Uzcategui told Antonini. This is the third week of the Miami federal court case against Venezuelan businessman Franklin Duran who is accused of illegally acting as a foreign agent in United States, as part of a conspiracy to try and silence Antonini not to reveal the origin or the destination of the money seized in Buenos Aires Jorge Newbery airport. Antonini said that his then friends Duran and another Venezuelan businessman Carlos Kauffman, also indicted, offered Antonini in Miami to have him flown in a private jet from the US to Israel or Spain, because of the growing scandal. Apparently Antonini was complaining that he was constantly harassed by the Miami press about the suitcase scandal. But he refused the option to leave the US "because the (suitcase) money did not belong to me". Advised by his solicitor Teresa Van Viet, Antonini finally agreed to collaborate with the FBI on August 16 in an operation that ended with the indictment of Duran, Kauffman, Maionica, Rodolfo Wanseele and Jose Canchica. And how did the suitcase incident happen? Antonini who lives in Key Biscayne on August 2, last year flew to Caracas invited to a friend's barbeque. The following day during lunch at a Spanish restaurant with Uberti and PDVSA officials, Victoria Bereziuk, (Uberti's secretary) suggested he fly to Argentina to find out details of a coming bid for the building of a gas pipeline, a section of President Chavez mega project of a network extending from Venezuelan fields to Argentina and Brazil. It could be an excellent chance to talk about the project with Uberti during the flight to Buenos Aires programmed for the following day. Antonini accepted the invitation and joined the Cessna Citation that left Maiquetía airport at 21:00 hours with a delegation of Argentine and PDVSA officials. They included Exequiel Espinosa, president of Argentina's Energy Corporation, Enarsa; Diego Uzcategui and his son Daniel, 19; and PDVSA staff, Nelli Cardozo, legal advisor; Jose Avial Driet, protocol and Ruth Behrens from PDVSA offices in Montevideo, plus Uberti and Bereziuk. However during the flight the issue was not addressed because of constant air turbulences and finally a film was screened. On arriving in Aeroparque, Buenos Aires, a car picked them from the aircraft to Customs. Antonini was carrying his personal brief case and a suitcase from the hold. Fifteen minutes later all luggage arrived and when he was helping with the suitcases, a Customs official asked him about the content. He replied he ignored the content but admitted it was heavy. When the suitcase was opened the cash emerged. "Uberti was next to me, I looked at him and he lifted his shoulders as if he hadn't a clue", claimed Antonini. By then all other passengers were either smoking or in a car ready to leave for downtown. An air terminal officer then said he wanted to check all luggage but nobody listened and all left but Antonini and Uzcategui Junior. He was taken to the commercial terminal of the airport where the money was counted and he had to fill a form. In spite of complaining Antonini finally signed the form making him responsible for the seized money, "it was the only way to get out of there". In the form Antonini registered as Venezuelan, living in a flat belonging to Duran where he usually stayed when in Caracas. He didn't want the officials to know he had dual nationality. Finally he left for the hotel and on meeting Uzcategui Sr he complained about the incident and his involvement. "How did you get me into this mess? Uzcategui replied, "I know how to fix it". Antonini also stated that the day after the scandal he went to Casa Rosada, Government House to a reception for President Hugo Chavez given by then President Nestor Kirchner. It was here that Argentine Planning minister and one of President Kirchner's closest aides Julio De Vido walked up to Antonini pat on the back and said how grateful he was for all he had done for the Argentine government. "You were great, and kept quiet; we'll support you all along. Don't worry", said De Vido who was together with Uberti. However in last week statements to the Buenos Aires press De Vido said that he didn't know the "fugitive (of Argentine justice) and was never in contact with him". Furthermore Anibal Fernandez who at the time was Home Secretary (and now is Justice Minister) declared that "it has been proven that Antonini Wilson was never in Government House, because Government House registers whoever visits or walks into Government House, and he does not figure in the records". But Secretary Victoria Bereziuk, was quoted in the Buenos Aires press, confirming Antonini had been invited to the Chavez reception and she had seen him at the White Hall in Government House. Apparently this is what declared to the Buenos Aires judge investigating the attempt to smuggle and launder money into Argentina.