Uruguay officials travel to assess troops in Congo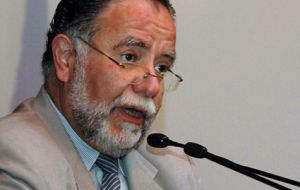 Uruguay Defence's minister and top military leaders leave Monday for Congo to asses in situ the situation of the 1.600 Uruguayan troops from the United Nations peace contingent, most of them in the battle front of Goma, said the government in Montevideo.

Minister Jose Bayardi and Army and Air Force chiefs Jorge Rosales and Enrique Bonelli are scheduled to meet with the head of the UN mission in Congo, (MONUC) in the capital Kinshasa and will then fly to the conflict area of Goma, where several Uruguayan battalions are playing a crucial role in the buffer zone between retreating government soldiers and advancing rebels. The Uruguayan Air Force Hercules C-130 will carry support and logistics material for the Uruguayan contingent that according to previous reports is short of ammunition and spares for the armoured vehicles. According to the Uruguayan Army sources there are serious and extending outbreaks of cholera in the region among the thousands of fleeing and hungry refugees. Most Uruguayan ground forces are located in the Goma area and Air Force personnel manage most of Congo's international airports. Meantime information from Kinshasa and New York indicated that the Congolese rebel leader Laurent Nkunda has told UN peace envoy Olusegun Obasanjo he will support a peace process with the government. General Nkunda also said he would respect a ceasefire if the Congolese government did. Mr Obasanjo said it would take effort from both sides to keep a truce. The rebel agreed to cease-fire monitors as long as they did not include UN peacekeepers, whom he accuses of bias. The meeting came amid reports of fresh clashes in the east of the country. An estimated 250,000 people have been made homeless by weeks of conflict between rebels and government troops. Democratic Republic of Congo President Joseph Kabila has to date rejected rebel calls for direct negotiation. After his meeting with General Nkunda in the rebel-held town of Jomba, Mr Obasanjo left for Kigali in neighbouring Rwanda which the Congo government accuses of supporting the rebellion. Speaking after the talks, the rebel leader Nkunda, wearing a grey suit rather than a military uniform, acknowledged that many lives had been lost in the fighting. "Today is a great day for us because we were losing many men and now we have a message of peace. We should work with this mission," he said. "We agreed to open humanitarian corridors to support the process." Nkunda says he is fighting to protect his Tutsi community from attacks by Rwandan FDLR Hutu rebels who fled to Congo after the 1994 genocide. Obasanjo, Nigeria's former president, told reporters the discussions had gone "extremely well". But he suggested concerted efforts would be needed: "It's like dancing the tango: you can't do it alone." Mr Obasanjo, who met President Kabila on Friday, said the president had not laid down conditions for talks with the country's rebels. The UN envoy also met members of Congo's parliament and ambassadors representing UN Security Council members in Kinshasa on Saturday.