Dakar Rally will again be hosted by Argentina and Chile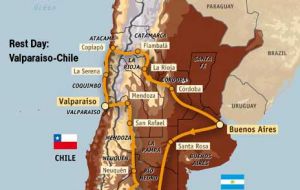 The Chilean government confirmed this week that Chile and Argentina will again be co-hosting the 2010 edition of the Dakar Rally which for the first time took place this summer in both South American countries including the crossing of the mighty Andes cordillera.

Francisco Vidal, Chilean Government Affairs minister confirmed the news in Santiago. "Very shortly the French organization that coordinated the 2009 Dakar will announce to the Chilean and Argentine peoples that they have made the decision to hold the 2010 competition in Chile and Argentina again" said Vidal while stressing the logistics support displayed in both countries during this year's competition. Vidal added that the event, one of the most important and most exposed in the auto industry and rally competitions will experience some changes in its next edition. "There will be more mileage, a few more days and the competition will go further north in Chile" he underlined pointing out that "it is good for Chile to be exposed to a coverage of a sports competition that reaches hundreds of millions of people all over the world; the rally will make the world familiar with this land of ours, with this corner of the planet". Among the reasons why Chile will again host the event, Vidal explained that Amaury Sports Organization (ASO) had positively assessed both Chile and Argentina's organization and logistics. In the case of Chile in particular "excellent support from public services, especially from the Air Force and National Police Force" he said. The Dakar Rally was moved from Africa to South America following terrorist threats. The 2009 edition was launched in Buenos Aires, and finalized several days later after having crossed the Andes to Chile, in the Argentine capital.