Italian cruise vessel suffers minor accident in the River Plate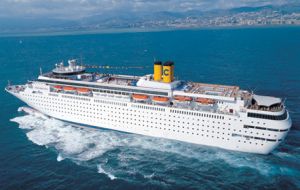 The Italian flagged cruise Costa Romantica with 1.400 passengers remained on Thursday midday anchored seven miles off the Uruguayan sea resort of Punta del Este after having suffered last night a brief blackout caused by a fire in the generators room.

The 53.000 tons vessel was traveling from Rio do Janeiro where it left last Monday and was expected to reach Buenos Aires early morning Thursday. According to a release from Costa Cruises the blaze was rapidly contained with no risk for passengers, crew or the vessel. Travelers were immediately informed of the incident and electricity was immediately restored with emergency equipments. A team of Uruguayan experts with the support from the local Coast Guard are currently assessing the extent of the damages and helping with the repairs. The vessel is expected to resume its schedule any moment in the evening. "Passengers are calm and assisted by the crew", added the release. Weather conditions in the Rive Plate are excellent so the cruise travellers are enjoying the summer weather and amenities on board. Most passengers on board are Brazilian, Argentines, Chileans and Mexicans. Costa Romantica was built in 1993 at the Fincatieri yards in Venice and refurbished ten years later. According to the technical data provided by the Costa Cruises, the vessel has 678 cabins, 1.697 beds and a crew of 596. The 220 meters long vessel had thirteen decks and a cruising speed of 18.5 knots. Costa Cruises is Italy's largest tourism group and Europe's number one cruise company having carried last year 1.200.000 cruise guests, a record for the European industry.