Restructuring deadline for GM & Chrysler; Wall Street plunges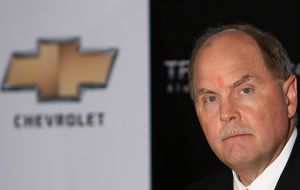 President Barack Obama has given US carmakers General Motors (GM) and Chrysler strict deadlines to restructure before getting more aid. General Motors will be given 60 days and Chrysler just 30 days to submit new plans for recovery.

Soon after ordering the resignation of GM chief Rick Wagoner, Mr Obama said bankruptcy protection could speed up the restructuring process. But he also offered conditional assurances about the industry's future.

"We cannot, we must not and we will not let our auto industry simply vanish," said Mr Obama. "But our auto industry is not moving in the right direction fast enough to succeed."

He said the car firms had run into trouble because of a "failure of leadership - from Washington to Detroit".

Mr Obama also suggested that seeking bankruptcy protection may be the best way forward for both companies.

Restructuring plans may "mean using our bankruptcy code as a mechanism to help them restructure quickly and emerge stronger," he said.

This could make it easier for the firms to "quickly clear away their old debts that are weighing them down so they can get back on their feet and onto a path of success."

Mr Obama said this would not have to involve breaking the companies up.

Talk of bankruptcy unsettled investors and US stocks fell sharply.

The leading Dow Jones index lost more than 4% in afternoon trade in New York, with GM shares down 30.6% at $1.11. Mr Obama reassured would-be buyers of vehicles made by Chrysler and GM that after-sales support would not be affected by the restructuring plans.

"If you buy a car from Chrysler or GM, you will be able to get your car serviced and repaired. Your warranty will be safe," he said.

"Because, starting today, the US government will stand behind your warranty."

Mr Obama said the restructuring plans submitted by the carmakers did not go "far enough to warrant the substantial new investments that these companies are requesting".

GM and Chrysler are looking for more than 20 billion of government aid.

"My administration will offer GM and Chrysler a limited period of time with creditors, unions, and other stakeholders to fundamentally restructure in a way that would justify an investment of additional tax dollars."

The president also said he would work with Congress on a program to encourage consumers to replace old, less fuel efficient cars with newer, cleaner vehicles.

Germany and others have adopted such schemes, thus boosting vehicle sales.

GM has been told to come up with a new, more radical restructuring plan within 60 days in order to qualify for further funds.

The auto task force set up by the US administration to oversee the government bail-out of the carmakers said in a written report that GM "could be a viable business with a more aggressive restructuring plan".

The carmaker has already announced tens of thousands of job cuts and a number of factory closures in order to cut costs that have spiralled out of control as sales have slumped during the economic downturn. But the task force criticised GM's progress on current restructuring efforts for being "far too slow".

In Chrysler's case, the task force questioned whether the company could survive alone and demanded a merger with Italy's Fiat - the two firms created a strategic alliance earlier this year - or another carmaker.

After President Obama's speech, Fiat and Chrysler announced they had reached the framework on a global alliance. The US government would provide working capital for a further 30 days while a merger was discussed, it added.

If a merger is successful, then the government will consider investing up to 6 billion.

The two carmakers have already received 17.4 billion in bail-outs. Chrysler has requested a further 5 billion, while GM says it needs 16.6 billion more.

On Sunday, President Obama ordered the resignation of GM's chairman and chief executive Rick Wagoner. Kent Kresa will take over as interim chairman, while current GM President Fritz Henderson will serve as chief executive.