Spain rescues regional bank; financial stocks fall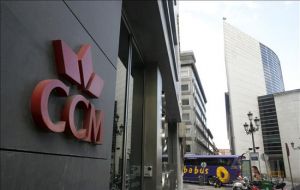 Spain's decision to rescue a regional savings bank has sent financial stocks in the country lower. The Bank of Spain is to take over Caja Castilla la Mancha in the first bank bail-out in Spain since the global financial crisis began. The government will also back the bank with 9 billion Euros in guarantees.

Shares in banking giants Santander and BBVA declined on concern over the health of the banks in Spain, where the housing market has been badly hit.

The branches of Caja Castilla opened on Monday morning as scheduled.

Santander, which owns the Abbey and Alliance & Leicester in the UK, saw its shares drop 5.6% to 5.04 euros.

BBVA stock dropped 5.25% and Banco Popular Español was 5.25% lower.

Overall, the benchmark Ibex 35 shares index dropped 3.1%.

In September, Santander agreed to take over the savings accounts of the Bradford & Bingley as part of the UK government's attempts to stop that bank collapsing.

Separately, Spanish inflation fell by 0.1% in March from the same month a year earlier, the first decline in consumer prices since the statistics body started tracking the figures in 1961. Spain is in its first recession in 15 years.