"Falkland Islanders unequivocally with to remain British"
Thursday, April 9th 2009 - 09:10 UTC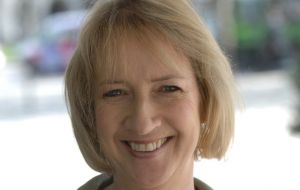 Argentine next of kin have "unfettered" access to the Falkland Islands since 1999 and "only last week 60 of them and families visited the Islands" points out Sukey Cameron, Falklands' government representative in London in a response to an article published in The Guardian which referred to the recent meeting between Prime Minister Gordon Brown and President Cristina Fernandez de Kirchner.

Ms. Cameron also underlines that Islanders are not seeking to fly directly to Argentina; they are seeking the lifting of a ban on charter flights crossing Argentine air space from Chile which was put in place by Argentina in 2003.

Finally Ms Cameron says Islanders have the inalienable right to self determination as established in the Falkland Islands constitution and Islanders wish to have a neighborly relationship with Argentina but it's obstructive and unhelpful of Argentina to keep pressing its sovereignty claim.

Follows the full response published in The Guardian, Wednesday 8 April 2009:

The prime minister took a strong stance on our right to self-determination in his meeting with the Argentinian president, Cristina Kirchner, for which we are extremely grateful (Falkland Islands sovereignty talks out of the question, says Gordon Brown, 28 March).

However, the otherwise excellent article does contain two statements which require clarification. It states that "Buenos Aires would like to gain unfettered access for the relatives of Argentinian soldiers who died in the 1982 war to visit their graves on the Islands". They already have "unfettered" access: restrictions on Argentinian nationals visiting the Falklands were lifted in 1999, although by then there had already been several visits by next of kin. There have been regular visits by families, veterans and tourists from Argentina, under standard immigration procedures, since then; a group of 60 veterans and families visited last month. Those wishing to visit from Argentina can do so on the weekly air link from Santiago in Chile, which stops in Rio Gallegos, Argentina, once a month.

Air access is of vital importance to Falkland Islanders, but the article goes on to say that they "want to be able to fly directly to Argentina. At the moment they have to embark on a lengthier journey to Chile." This is not correct. Islanders are not seeking to fly directly to Argentina, for fear that this would result in more harassment and travel restrictions. What we are seeking is a lifting of the ban on charter flights crossing Argentinian airspace from Chile, which was put in place by Argentina in 2003. We would also like to see an increase in the number of scheduled flights from Chile - currently restricted by Argentina to once a week. This would provide more capacity for the many people, of all nationalities, who wish to visit our Islands.

The article reports that the prime minister "made it clear that the constitutional future of the Islands lay in the hands of the islanders, who are staunchly British"; this is confirmed in our new constitution (which came into force on 1 January this year), initiated by the Falkland Islands government, endorsed by the UK government, and on which islanders were fully consulted. Its first chapter enshrines our inalienable right to self-determination, in accordance with the UN charter. This principle has never been accepted by Argentina as applying to the Falkland Islands.

Twenty-seven years after the invasion by Argentina, we want nothing more than to have a neighborly relationship with them. We are proud of the progress we have made in local democracy and internal self-government. Falkland Islanders have expressed their views freely and unequivocally over many years. We wish to remain British. Surely no one who supports democracy and human rights can oppose this.

Yet, as the article notes, Kirchner won power in Argentina "after promising to intensify efforts to reclaim" the Islands. The continued insistence that sovereignty talks must come before anything else is obstructive and unhelpful. There are a number of areas in which we could co-operate - to our mutual benefit - if this stance were changed.