Captain of Falklands' war cruiser "General Belgrano" dies in Argentina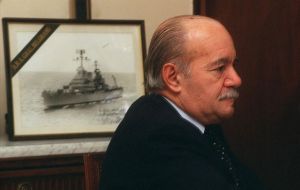 The commander of the Argentine cruiser General Belgrano sunk by a British nuclear submarine during the Falkland Islands conflict 1982, Hector Bonzo died this week in Buenos Aires at the age of 76.

The sinking of the former US Navy cruiser USS Phoenix on May 2, 1982 by HMS Conqueror was the major single loss of lives during the 74 day conflict in the South Atlantic: 323 out of a crew of over 1.000.

Captain Bonzo joined the Argentine Navy in 1947 and worked his way up the ranks having travelled 200.000 nautical miles. He was licensed in Naval Systems and taught in several Argentine Navy institutions. He served on board cruisers "La Argentina", "9 de Julio", Naval School frigate "Libertad" and the old ice breaker "General San Martín". He was honoured by the Brazilian Navy with the Tamandaré Medal.

Although the sinking of the cruiser General Belgrano was involved in a controversy as to where it actually was, or heading for, when torpedoed, inside or outside the exclusion zone imposed by the British, Captain Bonzo, in spite of Argentine claims of a deliberate "criminal action" always sustained it was "an act of war".

He also described the 323 Argentine sailors that went down with the old Second World War II cruiser as "heroes".

"The sinking of the cruiser was an act of war. It was not a crime. It was a licit most unfortunate and lamentable action. Crime is war. We were in the front and we suffered the consequences", Captain Bonzo was quoted at the time.

"As of April 30 I was given orders to open fire and if the submarine should have been before me having emerged for repairs, I would have opened fire with the fifteen cannons until it sunk".

Following the conflict Bonzo was named Chief of naval Superior Personnel and later Naval Deputy Secretary. In 1987 he founded the General Belgrano Cruiser Friends Association and was a member of the board during several periods.

Captain Bonzo edited two books, "1093 Crewmembers" and "323 Heroes of the Belgrano". The first was written by him and released on the tenth anniversary of the Falklands' conflict revealing his experiences and paying homage to the crew.

The second was written and edited in 2001 together with a group of General Belgrano survivors.

Captain Bonzo was married and had three daughters.