Cuban regime coming to an end, Hillary tells US Congress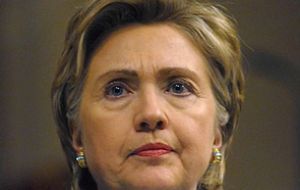 United States Secretary of State Hillary Clinton said Wednesday that Cuban President Raul Castro's current regime "is ending" and that the US must prepare to deal with a new reality on the island.

"You can see there's a beginning of a debate (in Cuba), I mean this is a regime that is ending. It will end at some point" said Mrs. Clinton in her first appearance as Secretary of State before the House Foreign Affairs Committee.

Recent statements from Raul Castro saying he is willing to talk with Washington about all issues, "including political prisoners, freedom of the press, human rights" plus comments from Fidel Castro are evidence of the existence of a "dialogue" in the island.

Mrs. Clinton added that if Congress decides that the best thing for US interests is to lift the economic embargo Washington imposed on Cuba in 1962, "obviously, the administration will abide by that". By law, any attempt to end the embargo is subject to congressional approval.

The Secretary of State said that President Barack Obama recent decision to lift restrictions on trips and remittances from Cuban exiles wishing to travel to Cuba, effectively garnered a reply from Raul Castro which was later considered "misinterpreted" by Fidel Castro.

"Our goal is for a free, independent democracy that gives the people of Cuba a chance to have the same opportunities that their sisters and brothers and cousins have in our country" said Hillary Clinton.

Fidel Castro, writing in an article posted on the official website CubaDebate, did not correct his brother but insisted that "without a doubt, the president (Obama) misinterpreted Raul's statement".

Fidel Castro advanced on Tuesday that Havana would order the release of dozens of dissidents jailed in a 2003 crackdown only if, in exchange, Washington frees five Cuban agents serving sentences for espionage in the US.

Havana sent the five agents to South Florida to spy on the Cuban exile community. The espionage operation followed several terrorist bombings on the island that was allegedly masterminded by Miami-based anti-Castro militant Luis Posada Carriles.