Brazil considers G8 is no longer a valid political decision group
Saturday, June 13th 2009 - 05:47 UTC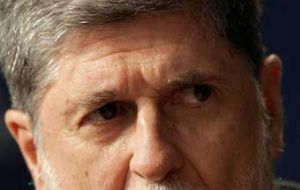 "G 8 is over as a political decision group" since "it represents nothing at all" and it's not a valid instrument to address the reform of the global financial system, said Brazil's Foreign Affairs minister Celso Amorim during a seminar in Paris on Mercosur.

"You simply can't ignore" emerging countries such as Brazil, China or India in these type of matters, given their growing economic influence, added Amorim addressing Friday the seminar on the tenth anniversary of the Mercosur Chair at the Paris Institute of Political Studies.

Amorim said that G 20 (which brings together the world's leading economies including several from developing countries) is more appropriate, "a better model" that the current G 8 made up of the seven richest countries in the world plus Russia.

What is needed, insisted Amorim, "is to formalize" this new reality into such institutions as the International Monetary Fund and the World Bank and pointed out that Brazil's objective is to reinforce the role of the G20 in discussions related to economic and financial issues, and also increase this influence to other fields of global interest.

As an example he mentioned the issue of disarmament, particularly following US President Baerack Obama's proposal, "the first such proposal from a US president", to completely eliminate all nuclear weapons.

Amorim who spoke after WTO Director General Paul Lamy said that the most pertinent forum could change according to the issue which it wishes to address because "we're entering into a world of variable, shared governance".

The Brazilian minister admitted it is far more difficult to modify the current "global security governance", but at the same it is the "great challenge we have ahead of us in the coming years".

Amorim emphasized that the world is changing and the instruments for global action have already began to be modified by WTO, where the G20 was born, an evolution that must be attributed to the "articulate diplomatic capacity" of countries such as Brazil or India.