OIE congress calls on rich countries to help eradicate FMD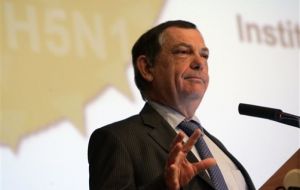 The Director General of the World Organization for Animal Health, OIE, Bernard Vallat called Friday on developed countries free of foot and mouth disease FMD, to help developing countries eradicate the disease.

"Countries free of FMD must help those developing countries which have the infection, to control the disease", said Vallat at the closing ceremony of the first World FMD congress in Asunción, Paraguay which convened over 300 experts from 174 OIE member countries.

Vallat revealed that in over a hundred developing countries FMD is endemic. "Our job is to convince those governments to combat the disease", he added calling on countries to strictly follow OIE recommendations, as well as strengthen domestic veterinarian teams.

"FMD has a domino effect over food security given the world shortage of proteins of animal origin that can be found in produce such as meat and milk", said the OIE chief.

"Only an effective immunization can avoid having to sacrifice the infected cattle", he added. Among the conclusions of the congress, representatives proposed long term measures emphasizing on vigilance, vaccination and specific diagnosis methods.

The three day meeting was the first world congress on FMD, with a massive participation from all OIE member-countries. The World Bank and FAO announced funds to help combat the disease in the poorest countries.

Dr. Vallat praised Paraguay for its efforts and achievements in controlling FMD, following the dreadful events of 2002 when the disease originated in Argentina, spread to almost the whole country.

"Since then a strict, permanent sanitary joint effort between cattle farmers and the government has enabled Paraguay to have one of the healthiest cattle herds in the region", said OIE experts.

The 11.6 million head of cattle have been systematically vaccinated, monitored and since 2005 Paraguay has the status of "free of FMD with vaccination".

An adequate legal framework, efficient epidemiology vigilance, proven reaction capacity, strict control of cattle movements, computerized registry of farmers and cattle herds, clinic testing to ensure the absence of viral activity, are some of the measures undertaken by Paraguay to reach the current situation, added the OIE experts.