Argentina: health emergency and school vacations extended to fight the flu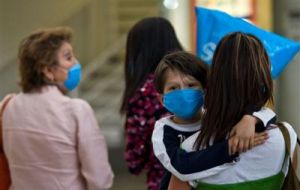 Authorities in Buenos Aires City and Buenos Aires province declared health emergencies on Tuesday and extended school vacations as the country's death toll of A/H1N1 virus influenza surged to 35.

In total, 16 of the country's 24 provinces taking advantage of winter vacations have suspended classes and government authorities from the province and City of Buenos Aires have decided to extend winter holidays, and bring them forward to next Monday.

Buenos Aires City's Health Minister Jorge Lemus assured that "the City's health system has sufficient medications" and that "hospitals are over-crowded, but not collapsed." For the moment, cinemas, theatres, and restaurants will remain open.

Health authorities have warned that while the swine flu peak has passed in Mexico, where the virus first was reported, the Southern Hemisphere is at risk as it heads deeper into its winter flu season.

A statement from Buenos Aires Mayor Mauricio Macri office said Tuesday that the emergency decree allows the mayor to change school vacation dates without legislative approval. It also allows him to unilaterally suspend sports and entertainment activities.

"We've made the decision to prolong school vacations in an attempt to decrease the epidemiological risk," the mayor said at a news conference also attended by the capital city's health and education ministers. School vacations, scheduled for July 20-31, will now extend from July 6 to Aug. 3.

A few hours later, Buenos Aires province Governor Daniel Scioli declared similar measures, including a health emergency and extended school vacations. There will be no large-scale business closures either in the large Argentine province.

Scioli's health minister, Claudio Zin, raised the province's swine flu death toll to 29. Officials in Buenos Aires city said at least six people have died there.

"We are at the stage of the epidemic where this measure (extending school vacations) is interesting and certainly effective in controlling the phenomenon. But we are not going to take measures such as banning public shows, though we do recommend that people avoid large public gatherings," Zin said.

In Mexico, the country that took the initial brunt of the disease, President Felipe Calderon ordered schools closed in late April and then followed with a five-day national shutdown of nonessential businesses to curb the virus' spread.

At least 119 people have died and more than 9,000 people sickened by A/H1N1swine flu in Mexico. In Chile, there have been at least fourteen confirmed flu deaths, and two in Colombia. Argentina with 1,587 cases of the A/H1N1 flu, and 35 deaths, the largest number on the continent is topped only by Mexico.

Meanwhile Juan Manzur is scheduled to take office as the new federal Health Minister replacing Graciela Ocaña who resigned over policies discrepancies. Ocaña advised extreme measures to fight the A/H1N1 virus flu such as closing shopping malls, cinema theatres, and the most controversial one: the annulment of the June 28 elections.

She also had an ongoing rough time with the unions and the head of the CGT labour Confederation Hugo Moyano. Ocaña had recently presented a report to President Cristina Fernéndez de Kirchner in which she concluded that unions owe the government 220 million Argentine pesos due to subsidies given to fight severe diseases (such as AIDS), but they never presented any of the correspondent receipts for the spending of those funds.

This raised the fury on Moyano's lines who publicly claimed that the millionaire health funds controlled by the health ministry should be managed by the CGT.