Falklands' Bishop appointed Bishop to the British Forces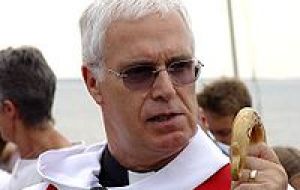 The Archbishop of Canterbury Dr Rowan Williams has announced the appointment of the Rt Rev Dr Stephen Venner as Bishop to the British Forces. Dr Venner, Bishop of Dover, succeeds the Rt Rev David Conner, the Dean of Windsor, who has served in this role since 2001.

Dr Venner, who will continue as Bishop for the Falkland Islands, will have pastoral oversight of Anglican chaplains and the Anglican Church within the Forces.

The Archbishop of Canterbury said the role was a crucial contribution to the pastoral care of armed service personnel and their families.

"The pastoral care of those working in the armed services of our country is a serious responsibility for the Church of England, and the work of our Forces chaplains and their Archdeacons is universally and rightly praised," he said.

Bishop Venner said: "Bishops John Kirkham (former Bishop to the Armed Forces) and David Conner have worked hard and effectively over the years to support, encourage and enthuse chaplains and members of our Armed Forces of all ranks in the name of God and his church. I look forward to building on their work and being actively alongside the forces, as they face so many challenges at home and abroad."

Dr Venner will step down as Bishop of Dover this year, but will continue his role as Bishop for the Falkland Islands.