Chilean sheep farming industry targets double lamb exports by 2010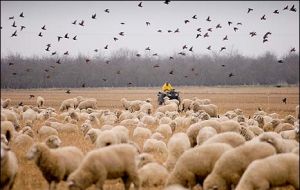 The Chilean sheep farming industry is embarking on a million dollar master plan to boost the national sheep population and double lamb exports by 2010.
The lamb market is changing. Demand for lamb in the United States, Asia, and Europe continues to rise, while production in Australia and New Zealand, the world's chief suppliers, is dropping, thus making lamb a sought after product.
Stakeholders in the Chilean lamb industry are looking to step-in and benefit from the market changes. They aim to breed enough sheep to meet international demand and increase their exports from 30 to 60 million US dollars annually.
A Sheep Consortium has been formed by the meat companies Carnes Ñuble, Mafrisur, Tattersall, Frima, Agromarin, and the Institute of Stockbreeding Investigation (INIA) to oversee the re-population of sheep in Chile's southern and central zones.
According to Agromarin General Manager Jose Marin, the first stage of breeding, which will involve implementing 250 hectares each with 4,000 sheep, will cost between 12 and 15 million US dollars.
"There is a demand for this product and an opportunity for the country" said Marin. "It is a daunting task, but this unique opportunity has to be taken advantage of".
The Magellan zone in Chile's extreme south Region XII has been suggested as the focus for the sheep-raising effort. This Region is already the dominant lamb producer in the country and accounts for 98 percent of national exports.
According to the United Nations Food and Agriculture Organization (FAO) 14 million tons of lamb meat is produced each year worldwide. Chile produces 9,000 tons, 5,000 of which are exported.
Chile's national sheep production currently amounts to 4 million heads a year, while chief world producers Australia and New Zealand reach 30 million each.
Still, Chile may have an opportunity to reach a similar export level. Australia is gradually focusing more on wine production, while the New Zealanders are delving into milk production, and in both countries farmers are battling long droughts.
Juan Garcia General Manager of the Sheep Consortium said that Chilean export production needed to be doubled in the short term to take advantage of the rare opportunity to supply markets in Asia and Europe.
"The main challenge for Chile is to enter the market with high quality products that stand out to potential consumers among the Asian and Middle Eastern countries (the biggest consumers in the world)," said Garcia.
Carnes Ñuble General Manager Victor Valencia said Chile had a significant advantage now that the U.S. abolished tariffs for Chilean lamb meat exports.
By Natalie Muller - Santiago Times