Brazil agrees to treble payment for Paraguay's energy from Itaipú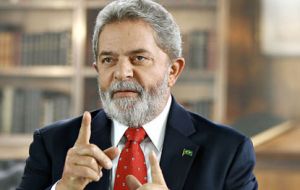 Brazil and Paraguay agreed over the weekend on an amicable solution to a decade long dispute over a hydro-electric dam on their shared border, with Brazil agreeing to triple the amount it pays its neighbour for energy.

The deal signed in Asunción was hailed by presidents Lula da Silva and Fernando Lugo as "historic", but is particularly encouraging for Paraguay's leader who came to office promising to secure better terms for the energy sold from the Itaipú dam.

Itaipu is the world's largest dam in terms of energy generation. Built on the Parana River it was inaugurated in 1984 and its 20 generator units produce 14.000 megawatts of energy, 90% of which is used by Brazilian industries.

According to a joint 31-point statement, Brazil agreed to pay Paraguay 360 million US dollars a year for power from the dam, up from the current 120 million.

Paraguay also won the right to gradually sell excess energy from the dam directly to the Brazilian market instead of doing so exclusively through state-owned power utility Eletrobras.

Another Paraguayan demand that the sides be allowed to sell to third countries will be readdressed in 2023, when the 50 year Itaipú treaty can be amended. Currently, energy from the dam can only be traded between the two countries, with Paraguay selling 90% of the energy produced to Brazil.

"After having shared sour moments we can say that we have reached a historic milestone, regarding Paraguay's demands. The (31 points) statements opens a new era of dialogue among equals" said the former Catholic bishop and Paraguayan president Lugo. "We have recovered our sovereignty over Itaipu, as was promised when taking office".

"We've achieved a huge stride forward, this is historic", said Lula da Silva. "It's no business for Brazil to have neighbours that don't have our same rate of growth and development", added the Brazilian leader who has become a major player in world politics.

"Bigger countries have an obligation to help countries with smaller economies in order to boost their development, initiative and competitiveness capacity" said Lula da Silva.

"The opening of the markets is key to Paraguay development and its energy-generating capacity" underlined Carlos Mateo, Itaipu-Paraguay director.

"The deal was always considered unfair by Paraguayans, especially when you think that Paraguay and Brazil paid for the dam equally" said Itaipu Paraguayan council member Carlos Alberto Gonzalez, a respected lawyer and former ambassador to Brazil.

"Each of the countries invested 100 million US dollars initially and the rest of the money came from loans."

However, many in Brazil feel that Paraguayan claims are out of place, particularly as they believe Brazil paid for the dam alone. But Mr. Gonzalez argues this is untrue, because Brazil only acted as a guarantor for the initial loans used to build the dam, but these loans are being paid with funds generated by Itaipu energy sales.

For many years, Paraguay complained about some unfair aspects of a treaty signed in 1973, when military governments ran both countries, particularly irritating it required Paraguay to sell its unused electricity to Brazil at a fixed price until 2023.

Matters were made worse in 1985, when Paraguay agreed to Brazil's request to sell Itaipu's electricity below market prices in order to fight an economic crisis in Brazil.

During four years Itaipú lost 4 US dollars for each megawatt of the electricity it produced. This continuous loss led to a debt that Paraguayan authorities deem illegal.

The main creditor for this debt is Electrobras, the state-owned Brazilian Electricity Company and main Itaipú electricity buyer.

The new deal signed with Brazil also contemplates building a powerful electricity line to the capital. This 360 kilometre line demanding 450 million US dollars will be completed in the year 2012 and will be fully paid by Itaipú.

"The lines are obsolete," says Carlos Mateo, Itaipú-Paraguay director.

"We lose about 40% of the electricity in transmission. About 25% is lost as a result of overload and 15% is stolen with illegal connections".

The deal also contemplates the building of two additional bridges linking both countries and a railway.

The 31 point agreement, however, must be considered and approved by the legislative branches of both countries.

The reaction in some of Paraguay's press to the agreement was not encouraging: "too many words, too few deeds", said the Sunday editorial of Asunción main daily ABC.

Paraguay's main Itaipú demands, fair price, free disposal of surplus power and review of the overall debt "have not been addressed". Brazil trebles current payments and will "consider" the future possibility of a "gradual direct sale of energy to the Brazilian market".

Anyhow the Itaipú understanding is a great relief for President Lugo who has promised to invest the additional payments in "social investments" (food, health and education). As head of a catch-all coalition and exposed for having as member of the Church fathered several children, he can now again take the political initiative and equally significant now has the blessing and support from the most influential neighbour in the region.