Colombia's Uribe re-re-election will be decided next September
Monday, July 27th 2009 - 12:31 UTC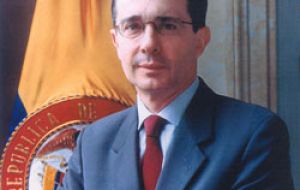 Colombian President Alvaro Uribe postponed until September any decision on plans to seek a third term in office, the country's former defence minister said week in Madrid.

"It's necessary because of the political dynamics for the situation to be made clear in September" said presidential hopeful Juan Manuel Santos in Madrid at a forum organized by the Casa de America cultural centre and museum and EFE, Spain's international news agency.

Uribe, the most popular Colombian leader in several decades, was elected in 2002 for a four-year term, but ran again in 2006 after the constitution was reformed to allow his re-election.

Now his supporters are backing a referendum to amend the charter again and allow him to compete in the May 2010 balloting, although separate bills passed by the Senate and the lower house enabling the plebiscite, must first be reconciled and the Constitutional Court also would have to give the green light.

The bills differ on a key point. While the Senate has authorized a referendum on whether to allow Uribe to stand for immediate re-election, the Chamber of Deputies would force Uribe to wait until 2014 to make a bid for a third term.

The lower house bill reflected the vague wording on a petition signed by millions of potential voters, while the senators changed the wording to make it clear the referendum would be on whether Uribe could be a candidate in 2010.

"I would think the time is running out to have this solved and outlined" said Santos, who reiterated that he will give his full support to Uribe if he runs.

"I'm very calm here in Madrid, waiting for a decision. When he decides, I'll go back either to support his re-election or my own candidacy," the former minister said, adding that his "plan B" in the event he is not a candidate would be to do "what President Uribe calls on me to do for his re-election".

Santos said several pro-Uribe parties have scheduled their primaries for September, while an inter-party vote to choose a sole candidate from the government coalition (in the event Uribe does not run) would presumably take place in November.

President Uribe has publicly stated that "he doesn't want to perpetuate himself in power," but that he does want "his policies to be re-elected" Santos pointed out.

He was referring in particular to Uribe's "democratic security" policy, whose stated objectives are to extend state control over all areas of the country, destroy the illegal drug trade and transparently and efficiently manage the nation's resources.

The president's die-hard supporters say Uribe is the only president who has taken head on the fight against leftist guerrillas in the last 40 years and that no other politician, Santos included can be trusted with the reins of power.

The member of an influential family that once owned Colombia's leading daily, El Tiempo, and is still involved with the paper on the editorial side, Santos – cousin of current Vice President Francisco Santos – served in the administrations of Cesar Gaviria and Andres Pastrana before joining the Uribe government.

While at the head of the Defence Ministry, a raid was carried out in March 2008 on a clandestine camp of the Revolutionary Armed Forces of Colombia, or FARC, in Ecuador in which rebel No. 2 Raul Reyes and 25 others were killed.

Ecuador broke diplomatic relations with Colombia over the air-strike and ties between Quito and Bogota remain frayed.

Months later, on July 2, 2008, Colombian troops masquerading as members of the Red Cross and a Spanish NGO duped a FARC unit into handing over former presidential candidate Ingrid Betancourt and 14 other hostages.

Santos presented a book on that operation, written by Juan Carlos Torres, in Madrid last Wednesday.