Who can buy farmland in the Falklands – restrictions to be imposed?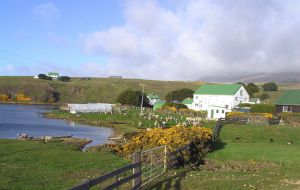 A recent increase in the sale of Falklands farms to overseas buyers may lead to amendments to the Lands Non-residents Ordinance potentially to restrict who can buy farmland in the islands.
Councillor Mike Summers said, "Every sale of a farm to an overseas buyer has led to questions raised by the community with regard to the ordinance in respect of farmland."
He qualified this saying the Falkland Islands Government did not want to see a reverse of the Shackleton Land Reform Process which in recent history led to the sale of large swathes of land owned by absentee landlords being subdivided and sold to Falkland Islands residents.
At the same time, he said, government did not want to interfere in the rights of farmers to dispose of farms for the best value. "There are complicated issues involved."
Asked if there were concerns regarding Argentines taking the opportunity to purchase Falklands farms, Councillor Summers said the concern was that a large amount of public money had been invested in developing agriculture in the Falkland Islands and the population had been involved in discussing and developing those strategies. He said the worry was that if a farm was sold to an overseas buyer, that buyer would have had no involvement in those strategies and, for example, they might simply purchase the land and remove the stock perhaps for environmental reasons: Such moves, he said, could potentially lead to the original strategies to become non viable.
Most recently a large amount of public funds has been invested in the Falkland Islands Meat Company; for that company to be viable it must be provided with adequate stock for the company to function in such a way that it in turn provides support for the farming community.
At a recent meeting of Executive Council it was decided that those responsible for the Rural Development Strategy (RDS) would deal with the issue of Lands Non-residents Ordinance.
A time-line has been set and Councillor Summers says the RDS will examine the key issues and make recommendations whether there should be any restrictions on the sale of Falklands farmland and if there should be, how they would operate and to what extent.
By Lisa Johnston – SeAled PR - Stanley