US military forces in Colombia included in Unasur's agenda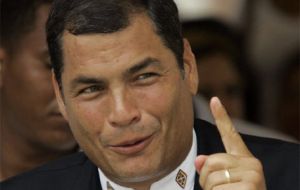 The deployment of US military personnel in Colombian bases and its implication for the region has been included in the agenda of the Union of South American Nations, Unasur, which convenes this week in Quito, Ecuador, according to the country's Foreign Affairs minister Fander Falconi.

Leaders from Argentina, Brazil, Bolivia, Guyana, Paraguay, Peru, Surinam, Venezuela and Uruguay have been announced for the main ceremony when the Unasur presidency, currently held by Chile's Michelle Bachelet is passed on to the host country president Rafael Correa.

Falconi said that two of the twelve country members of the group "have requested that the issue of military bases in Unasur be addressed and the natural space for this is the security council of the group".

Although Falconi did not mention the two countries it is well known that Venezuela and Ecuador have been the most critical of the negotiations between Colombia and Washington for US military forces to be deployed in seven Colombian military bases. However Brazil and Chile have also expressed concern and surprise about the news.

"What Ecuador must do on taking the presidency pro tempore, and in this case (Ecuador) Defence minister Javier Ponce who will preside over the security council is to process the demands from the two countries", said Falconi.

The Ecuadorian minister added that is was only "logical" that Colombian president Alvaro Uribe, Vice-president Francisco Santos and Foreign Affairs minister Jaime Bermúdez should be absent from Quito since both countries have diplomatic relations suspended since March 2008.

Quito cut off relations with Bogotá following an incursion of Colombian forces into Ecuadorian territory to attack a camp of the guerrilla-cocaine funded FARC, Revolutionary Armed Forces of Colombia.

Meantime President Uribe has begun a tour of Unasur countries, with the exception of Ecuador and Venezuela, to talk about "terrorism in Colombia, its risks and issues related to Unasur", according to an official release from the Colombian Foreign Affairs ministry.

In related news Ecuadorian president Correa anticipated that when the takes over the presidency of Unasur, next August 10, he will work to "subtract relevance" from the Organization of American States, OAS.

"Any country that dares commit an aggression against any other must be severely sanctioned by the rest of the region", said Correa.

Unasur must be made up of "countries which are not strangers to the region and include others that have been postponed for too long", apparently in reference to the US and Cuba.

Correa said that the overwhelming majority of OAS members are Latinamerican countries but its seat is in Washington and "we know who has been predominant under those circumstances".

He also anticipated he would sponsor the creation of regional arbitrage centres to end with the practice that "any multinational can force a sovereign state to an arbitrage court in Washington".

Finally Correa said that the Community of Andean Nations, CAN, and Mercosur must prepare to converge in Unasur.